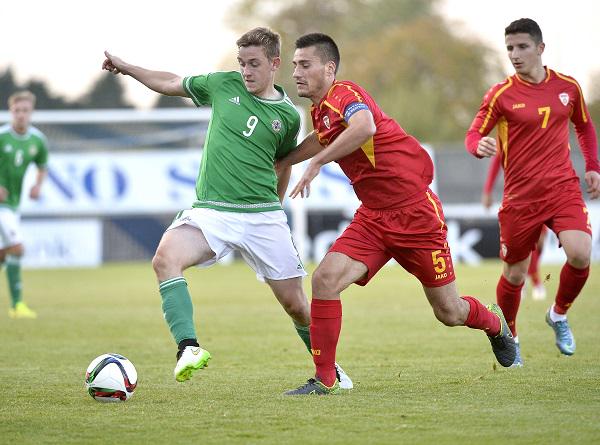 Gjoko Zajkov and Enis Bardhi; photo: Northern Ireland FAVideo of the goals and highlights have finally been made available for the U21 qualifier between Macedonia and Northern Ireland.
Earlier in the week, Macedonia U21 recorded a 2:1 road win over Northern Ireland. The game was not televised or streamed, so most people relied on text commentary from UEFA's website or the Northern Ireland federation. However, it's one thing to describe it and another to see it.

On Saturday, the Macedonian federation uploaded a video on its Facebook page which included complete highlights of the match. Just as it was described, Macedonia U21 did create a lot more chances on their way to the win. The team played attacking minded football on the road, showing great desire and hunger for the three points. They were ultimately rewarded with a late game winner.
Уживајте во играта на репрезентацијата до 21 година од гостувањето во Северна Ирска. Сите шанси и голови од натпреварот.

Posted by Фудбалска Репрезентација на Македонија on Friday, October 16, 2015
---