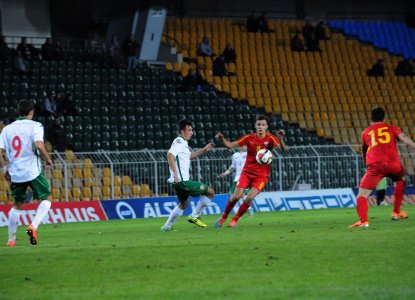 Action during the game; photo: bfunion.bgThe U17 national team played its second consecutive goalless draw to finish this qualifying cycle in last place.
Macedonia U17 was looking to beat Bulgaria in order to stay alive for second place, a position that guaranteed a spot in the Elite Round. However, they fell short as the result of 0:0 did not suit Macedonia. Bulgaria, the host nation, had a player sent off at the hour mark, but Macedonia could not take advantage. The U17 squad ended the qualifiers without scoring a single goal in three games.
The other group match saw Scotland and Italy play a 1:1 draw. That result was not a good one for Macedonia. So, even if they had beaten Bulgaria today, it would not have been enough for second place. Scotland held the head-to-head tiebreaker over Macedonia.
Instead, Italy (first place) and Bulgaria (second place as they held the head-to-head edge over Scotland) reached the Elite Round from this group. Macedonia finished bottom with two points.
Lazur stadium in Burgas, Bulgaria
Macedonia U17 - Bulgaria U17 0:0
Goals: /
Macedonia: Hristijan Stevkovski; Mihail Manevski, Andrej Kirovski (C), Antonio Mitrev, Kiril Ristovski; Kristijan Trapanovski, Hristijan Delevski, Jani Atanasov, Marko Ferukoski; Dimitar Mitrovski, Boban Zdravevski (70' Filip Stojchevski).
Bulgaria: Dimitar Sheytanov (C); Georgi Kostov, Aleksandar Bastunov, Petko Hristov, Valentin Antov; Kiril Nikolov (71' Kaloyan Krastev), Dimitar Iliev, Dimitar Kostadinov, Toni Ivanov (41' Ivan Mitrev); Stanislav Ivanov, Ivan Tilev (61' Vladislav Zhikov).
Yellow cards: Mitrovski, Zdravevski, Delevski, Stevkovski, Ristovski (M), Kostadinov, Nikolov, Hristov (B)
Red cards: 61' Petko Hristov
Referee: Roomer Tarajev (Estonia)
Final standings:
| | | | | | | |
| --- | --- | --- | --- | --- | --- | --- |
| Group 12 | MP | W | D | L | GD | P |
| Italy | 3 | 1 | 2 | 0 | 4:1 | 5 |
| Bulgaria | 3 | 1 | 1 | 1 | 2:3 | 4 |
| Scotland | 3 | 1 | 1 | 1 | 4:3 | 4 |
| Macedonia | 3 | 0 | 2 | 1 | 0:3 | 2 |
---