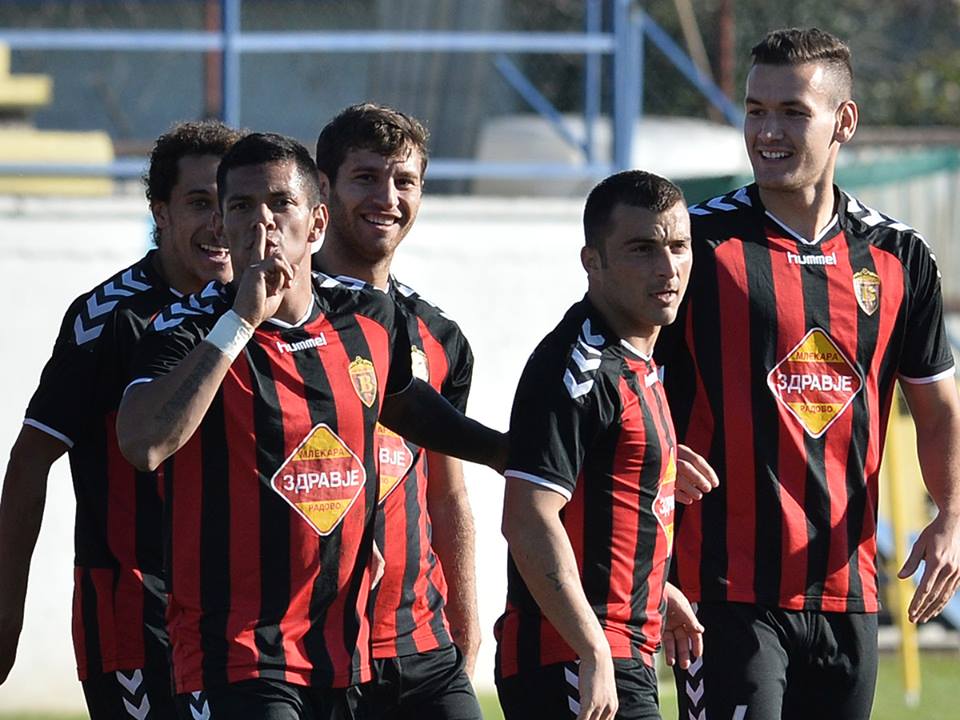 Cesar Romero made the difference; photo: VardarVardar and Shkendija won again to continue rolling this season, Rabotnichki got a much needed three points, while Sileks was defeated away to Renova.
Just like the last round, Vardar only needed one goal to collect another win. The victim was Mladost earlier this week, while Metalurg suffered the same fate on this Sunday. Mexican attacker Cesar Romero returned from his red card suspension, and he proved to be the hero for Vardar. In the 27th minute, Romero scored a nice goal directly from a free kick. That was all Vardar needed as goalkeeper Tome Pachovski kept a clean sheet for the sixth consecutive league game. Metalurg, on the other hand, sit in last place as they appear destined for relegation.
Highlights of the game:
Metalurg: Taleski, Ristovski, Leskaroski (84' Mitrov), Krivanjeva (45'+2 Gjorgievski), Ilieski, Jevtoski, Tanturovski (80' Karanfilovski), J. Naumoski, Stojanovski, Angelov, B. Naumoski.

Vardar: Pachovski, Hambardzumyan, Grncharov, Mijušković, Popov, Gligorov, Juan Felipe, Asani (55' Petkovski), Romero (90' Velkovski), Blazhevski (70' Ljamchevski), Ivanovski.

Shkendija also had no problems, remaining within striking distance of Vardar. Bregalnica proved to be no match, losing to Shkendija 2:0. Armend Alimi and Marjan Radeski found the back of the net for Shkendija. Alimi scored on a rebound opportunity from close range in the 1st half, while Radeski also got his goal on a simple effort from inside the area following an assist by right-back Blagoja Todorovski. So, Shkendija stayed one point behind top ranked Vardar.
Highlights of the game:
Bregalnica: Kolev, Tonev, Mitrev, Filipovski (46' Nacev), Blazheski, Hristov, Zdravkov, Nikovski (13' Stanković), Velkovski (71' Iliev), Ristovski, Kocev.
Shkendija: Jovanovski, Todorovski, Rech, Polozhani, Cuculi, Demiri, Alimi, Totre (81' Bejtulai), Radeski (75' Useini), Stênio Júnior, Ibraimi (78' Kirovski).

Rabotnichki returned to their winning ways, downing Mladost 2:0 at home. However, it wasn't easy by any means. Rabotnichki left it late by getting both of their goals in stoppage time of the 90th minute. Mladost put up a resilient fight, but Rabotnichki eventually broke them down. Bazhe Ilijoski and Stephan Vujčić grabbed the goals for Rabotnichki. These two teams will play again on Wednesday, Novermber 4, as part of a make-up game from earlier in the season.
Rabotnichki: Bozhinovski, Herrera (62' Mitrov), Ilievski, Ristevski, Petrovikj, Trajchevski, Vujčić, Jovanoski (70' Cikarski), S. Sahiti (46' Altiparmakovski), Markoski, Ilijoski.

Mladost: Petrovski, Elmazovski (46' Velevski), N. Veljanoski, Simjanovski, Grozdanoski, T. Veljanoski, Dalcheski, Dimoski, Markovski (60' Cvetanoski), Sali (83' Nikolovski), Kalanoski.

Renova, a team aiming to finish in 3rd or 4th place, got an important win over Sileks, one of their main competitors for those positions. Veteran players Gjorgji Mojsov and Izair Emini notched one goal apiece for Renova, while Sileks could only record a late consolation goal through substitute Boban Marikj. After this result, Renova only trails Sileks by two points.
Renova: Efremov, Musliu, Mecinovikj, Mishkovski, Velija (76' Redjepi), Mojsov, Gafuri, Selmani (90'+2 Sadiki), Fetai, Nuhiu, Emini (85' Jusufi).

Sileks: Mitrović, Timovski, Mickov, Ivanov, S. Rudan, Gucev, Gligorov (60' Nedeljković), Acevski (82' Marikj), Panovski, Duranski, Gorgiev (75' Todorov).
Renova managed to beat Sileks
The remaining game of the round between Turnovo and Shkupi ended how it started, 0:0. Neither team had the quality up front to trouble their opponent.
Turnovo: Stoilkov, Tashev, Iliev, Tafe, Milushev, Mavrov, Najdenov, Stoilov (81' Matute), Imeri (61' Bozhinov), Kochoski (46' Tanushev), Pandev.

Shkupi: Zendeli, Murati, B. Asani, Adili, Lazarevski, Bajrami, E. Asani (56' Bae), Osmani, Adem (83' Nuhiu), Iseni, Demiri (66' Arif).

Round 13 results:
Metalurg - Vardar 0:1 (0:1)
27' Cesar Romero
Bregalnica - Shkendija 0:2 (0:1)
41' Armend Alimi, 73' Marjan Radeski
Rabotnichki - Mladost 2:0 (0:0)
90'+1 Bazhe Ilijoski, 90'+3 Stephan Vujčić
Renova - Sileks 2:1 (1:0)
20' Gjorgji Mojsov, 79' Izair Emini - 90' Boban Marikj
Turnovo - Shkupi 0:0
---