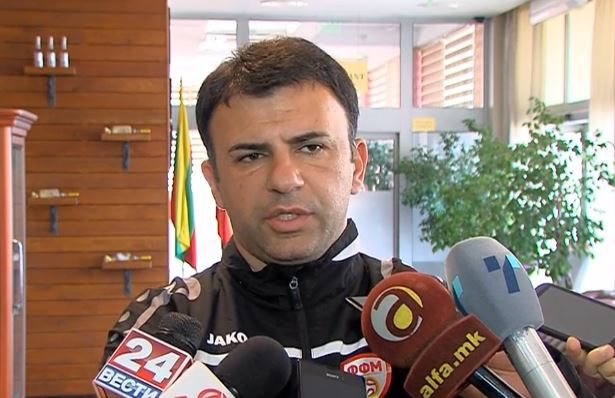 Igor AngelovskiIgor Angelovski, still just the interim manager as of right now, will make his coaching debut for Macedonia on Thursday in the friendly against Montenegro.
What happens over the coming week will go a long way in determining the future of Igor Angelovski. He will be in charge of two friendlies, versus Montenegro and Lebanon, where Angelovski has to show that he is ready to lead a country's national team. He has done a good job at Rabotnichki, overachieving with them on a limited budget (especially in the Europa League qualifications), but can he translate that over to the national team?

The Macedonian federation has still not committed to Angelovski for the long-term. He is theoretically serving on an interim basis, being closely evaluated by his superiors at FFM. There is the wish for stability at manager, but a permanent solution, whether Angelovski or someone from the outside, will not be known until later this year or early in 2016. After Lebanon on November 17, the national team is not scheduled to play another game for months.

With Ljubinko Drulovic and Luís Diogo, an assistant/conditioning coach, both leaving Macedonia for Partizan, Angelovski has a thin staff assisting him this week. He has been joined in trainings by only Argjend Beqiri (assistant) and Oka Nikolov (goalkeeping coach).

Macedonia will have 16 available players for the Montenegro friendly on Thursday, while that number will grow by 3-4 players, promoted from the U21 ranks, before the test against Lebanon next Tuesday.

Stefan Ristovski has a minor injury that forced him to train individually on Tuesday, so his status is uncertain for Monetengro. If he can't go, then Vladica Brdarovski will start at right-back. Macedonia is very thin on defense with only five total players. So, if another defender gets hurt and can't go, then Milovan Petrovic (the most versatile player on the roster) will be asked to fill in there.
Contrary to Drulovic, Angelovski wants to play offensive football. He told the media that he prefers offensive minded players who will attack, a different philosophy from his predecessor. Drulovic, on the other hand, felt the personnel required a defensive approach, so Ljubinko and Igor differ on that.

Boshko Gjurovski, who was in charge before Drulovic, also believed in offensive minded football. However, based on the results, neither Gjurovski nor Drulovic had much success. We'll see how Angelovski fares over the next week and whether he gets to keep the manager post beyond these two friendlies.
---