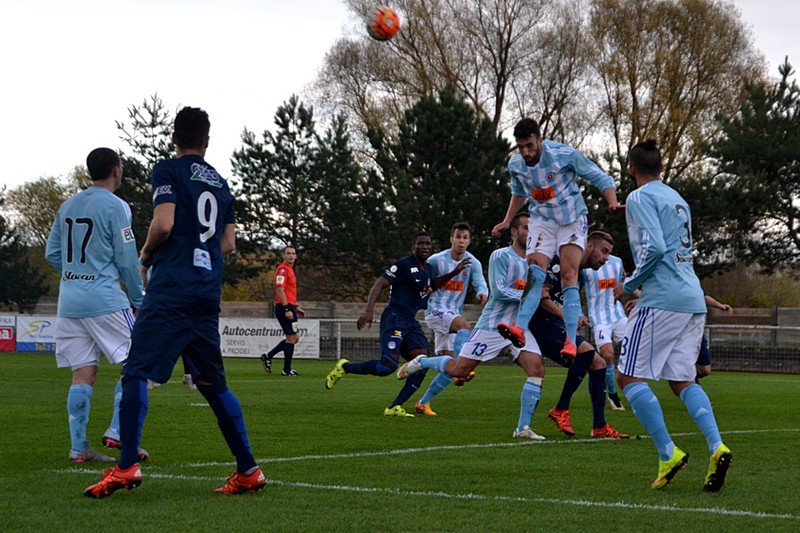 Aleksandar Damchevski heads the ball; photo: SlovackoAleksandar Damchevski is currently on trial with Slovan Bratislava in Slovakia, even playing in a friendly on Wednesday.
Free agent central defender Aleksandar Damchevski is looking to win a contract with Slovan Bratislava, one of the top clubs in Slovakia. He is being tested by them during the international break. On Wednesday, Damchevski played in a friendly for Slovan against Slovácko, the team of Veliche Shumulikoski. Slovácko won the friendly 2:1. Damchevski lasted the full match, while Shumulikoski played just the 1st half.
Damchevski is still available after Partizan (Serbia) passed on signing him this past September. He was also on trial back then as well. Damchevski will be hoping that the trial at Slovak will lead to an agreement. Before that, Aleksandar was under contract with NAC Breda in the Netherlands.

The manager of Slovan Bratislava is Nikodimos Papavasiliou from Cyprus. He has coached several Macedonians in his career, guys like Bojan Markoski, Martin Bogatinov and Besart Ibraimi while they played in the Cypriot league. We'll see if Damchevski adds to that tally.
Damchevski will turn 23 years old later this month. He plays a position where Macedonia lacks depth and quality, so hopefully the trial will lead to a contract offer.
---