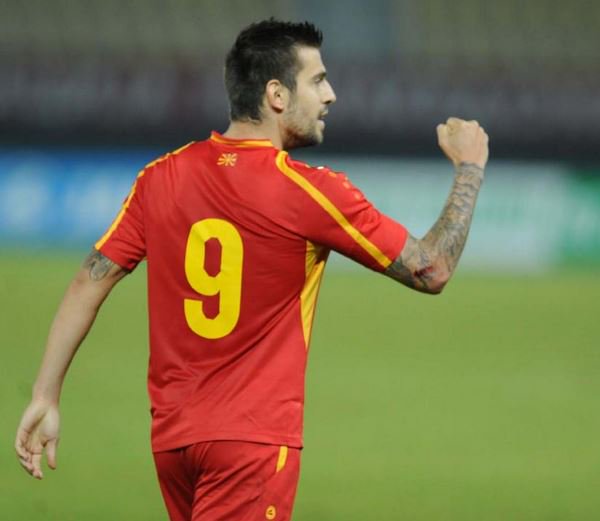 Trajkovski after one of his goals; photo: sportmedia.mkThe offensively-challenged Macedonia exploded for four goals to down Montenegro 4:1 on Thursday. It marked a winning debut for manager Igor Angelovski.
Unexpected, but much needed. After only scoring two goals in seven prior games in 2015, Macedonia doubled that tally in just one match today against Montenegro.

The opening three goals came quickly after an uneventful half an hour. However, from the 35th to 40th minute, Macedonia found the back of the net three times.

Vanche Shikov netted the first goal shortly following a corner kick. The corner came after a long-range shot by Ivan Trichkovski was parried away by the Montenegro keeper. From the subsequent corner kick, which was initially cleared, the ball would reach Agim Ibraimi whose effort was saved, but Shikov was there to score on the rebound.

After that first goal, Aleksandar Trajkovski would take over for Macedonia. Trajkovski was once again fielded in the #9 role closest to goal, and he managed to record a hat-trick. In the 38th minute, Agim Ibraimi won a penalty which was calmly converted by Trajkovski. Then, three minutes later, Ivan Trichkovski made a nice play to win the ball and set up Trajkovski for an easy goal from close range. That gave Macedonia a 3:0 lead at halftime.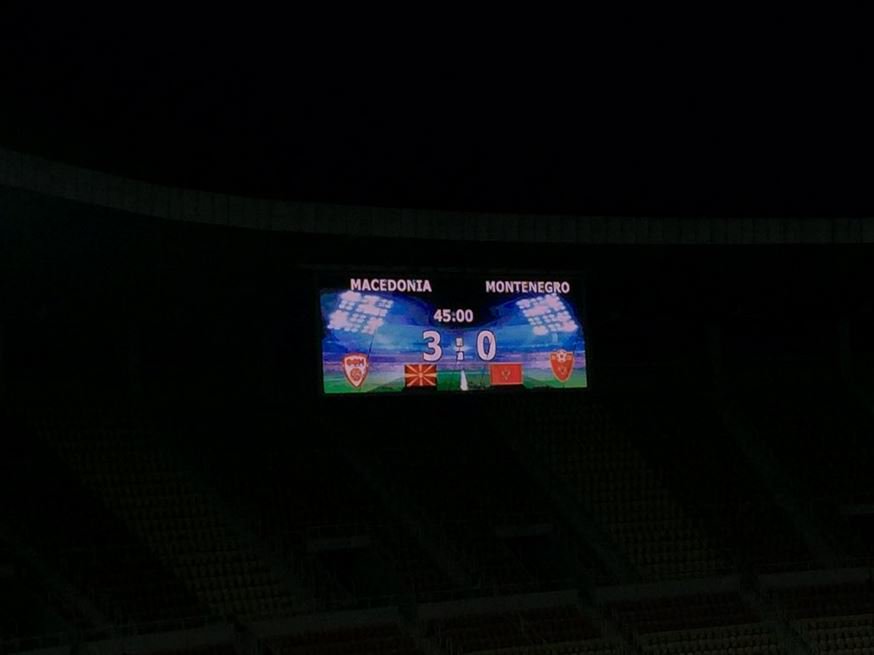 The halftime score; photo: Samuel Naumovski
Trajkovski completed his hat-trick in the 64th minute when he made it 4:0 for Macedonia. He slotted home a shot from the edge of the area after combining well with Ilija Nestorovski. Montenegro, on the other hand, could only muster a late consolation goal in the 88th minute through Stevan Jovetic. The player from Inter fired a shot from distance past the diving keeper Stole Dimitrievski.
Highlights of the game:
From the 16 available players for Macedonia, only Marko Jovanovski, the reserve goalkeeper, did not get a chance to play. Meanwhile, guys like Milovan Petrovic, Ilija Nestorovski, Vladica Brdarovski and Bazhe Ilijoski all came off the bench at some point in the 2nd half.
It was a great debut for manager Igor Angelovski and the win should raise the confidence within the team. Now, we will see how the squad responds on Tuesday when they play another friendly, the opponent being Lebanon.

Lineup for Macedonia: Dimitrievski, Ristovski, Shikov, Mojsov, Zuta, Stjepanovic (72' Brdarovski), Gligorov, Ibraimi, Trichkovski (57' Petrovic), Velkoski (58' Nestorovski), Trajkovski (83' Ilijoski).
---