Altiparmakovski scored on this shotIn the first legs of the Macedonian Cup quarter-finals, Rabotnichki, Turnovo and Shkendija practically finished their job, while Mladost and Bregalnica played a draw.
Rabotnichki actually hosted Sileks in Veles due to the bad pitch at the Philip II Arena. That proved to be no issue as Rabotnichki beat Sileks 3:0. All three goals came sfter the break. Captain Bazhe Ilijoski did miss a glorious opportunity in the 11th minute when his penalty was saved by keeper Goran Simov. In the second half, though, Marjan Altiparmakovski, Ilijoski and then Stephan Vujčić (his on a penalty) reached the back of the net to put Rabotnichki in a great position heading into the return leg.
Rabotnichki: Shishkovski; Siljanovski (68' Petrovikj), Ristevski, Ilievski, Cikarski; Trajchevski, Vujčić, S. Sahiti; Altiparmakovski (88' E. Sahiti), Markoski (84' Jovanoski), Ilijoski (C).
Sileks: Simov (C); Timovski, M. Rudan, S. Rudan, Ristevski; Gucev, Todorov, Acevski (66' D. Gjurchinovski); Marikj, Raspashkovski (77' Gligorov), Klechkaroski (60' Filipovski).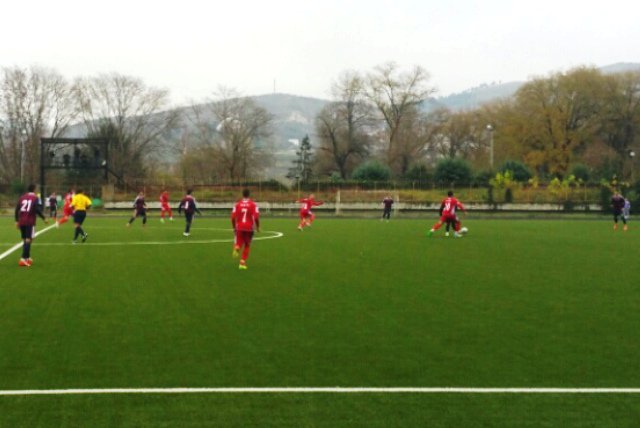 Rabotnichki vs. Sileks; photo: Rabotnichki
Turnovo also had no trouble by scoring four goals past Makedonija Gjorche Petrov, the lone Second League side still alive in the competition. Demir Imeri led the way with a brace. Makedonija GjP scored its second goal in the 90th minute to complete the 2:4 scoreline, but they will still need a miracle to overcome the deficit in the return leg on the road.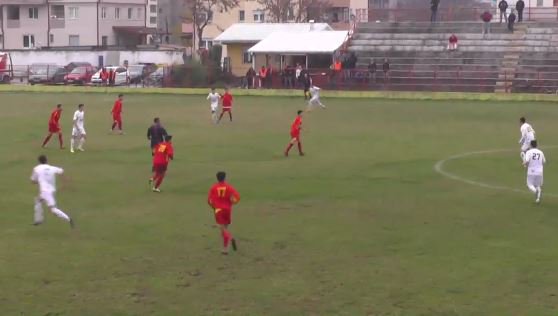 Makedonija GjP vs. Turnovo
Makedonija GjP: Trajkovski; Redjepi, Nikolov, Stojmenov (46' Stojkoski), Mishovski; Terziev (54' Risteski), Todorovski, Lazarevikj, Cvetanovski; Mustafa, Kostovski (C) (46' Shajnoski).
Turnovo: Stoilkov; Milushev, Tashev (59' Taipi), Tafe, Iliev; Bozhinov, Mavrov, Stoilov, Najdenov; Pandev (C) (19' Krstovski), Imeri (76' Matute).
Over in Ohrid, Mladost Carev Dvor and Bregalnica played a 1:1 draw, so both teams will fancy their chances in the return leg. Mladost took the initial lead on the stroke of halftime, but Bregalnica equalized ten minutes before the final whistle. So, this tie is wide open after today's result.
Mladost: Petrovski; Gjoreski, Simjanovski (84' Velevski), T. Veljanoski (C), Elmazovski; Dalcheski, Dimoski, Cvetanoski, Nikolovski, Konjarski, Kalanoski.
Bregalnica: Davitkov; Stanković, Mitrev, Stojanov, Tonev, Kocev (69' Blazhevski); Hristov, Velkovski, Zdravkov (C); Mishev (46' Ristovski), Nacev (55' Iliev).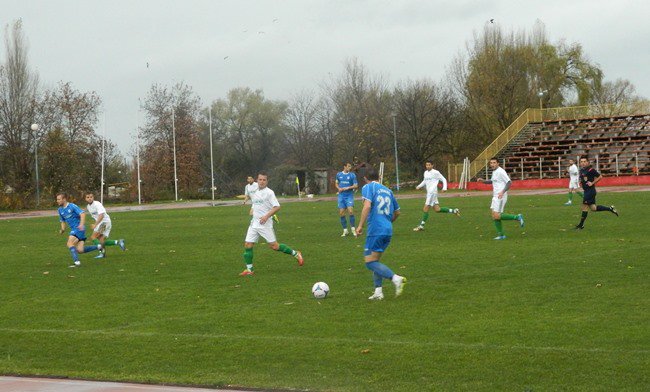 Mladost vs. Bregalnica; photo: ohridnews.com

The last quarter-final game, between Shkendija and Vardar, took place a day later, on Thursday. That came about since Shkendija's league match this past Sunday was moved back one day. Shkendija already took the lead in the 22nd minute before Vardar was down to ten men three minutes later when Hovhannes Hambardzumyan collected his second yellow card. Before halftime, Shkendija doubled their lead and Vardar doubled their red cards. Ardian Cuculi got the second goal for Shkendija, while Goran Popov was shown the second red card for Vardar. With 9 men, Vardar could only defend in the second half, but Shkendija eventually managed to grab a third goal in the last minute courtesy of Marjan Radeski. Now Vardar will have a mountain to climb in the return leg scheduled for 2 December.
Shkendija: Jovanovski; Bejtulai, Cuculi (C), Rech, Todorovski; Useini, Polozhani, Alimi (46' Kirovski), Demiri (32' Totre); Stênio Júnior (71' Radeski), Ibraimi.
Vardar: Pachovski; Popov, Mijušković, Grncharov (C), Hambardzumyan; Gligorov, Nikolov (52' Novak), Felipe; Blazhevski, Stojkov (28' Brdarovski), Romero (44' Ljamchevski).
Quarter-finals first leg results:
Rabotnichki - Sileks 3:0 (0:0)
56' Marjan Altiparmakovski, 69' Bazhe Ilijoski, 82' (pen) Stephan Vujčić
Mladost Carev Dvor - Bregalnica 1:1 (1:0)
45'+1 Dejan Cvetanoski - 80' Stefan Ristovski
Makedonija Gjorche Petrov - Turnovo 2:4 (0:1)
62' Andre Shajnoski, 90' Nikola Mishovski - 17' Gjorgi Stoilov, 67', 72' Demir Imeri, 82' Nikola Bozhinov
Shkendija - Vardar 3:0 (2:0)
22' Stênio Júnior, 41' Ardian Cuculi, 90' Marjan Radeski

---