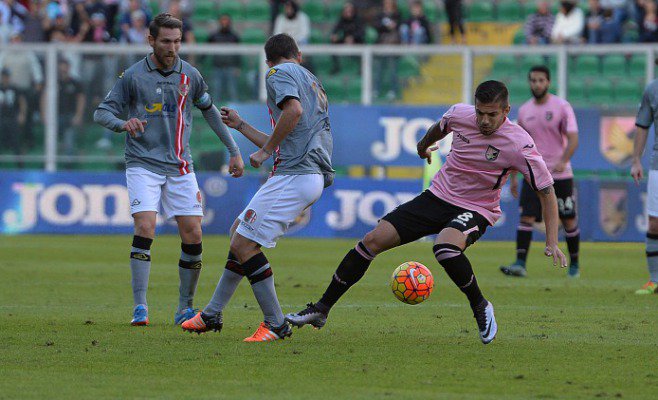 Trajkovski during the game; photo: PalermoAleksandar Trajkovski managed to get on the scoresheet for Palermo, but it was in a losing effort to Alessandria.
Palermo faced Alessandria in the fourth round of the Italian Cup on Wednesday. Palermo was the favorite since they were at home, plus their opponent came from the third division. However, the game is not played on paper. That proved to be true in this matchup as Alessandria won 3:2 to eliminate Palermo from the competition.

Trajkovski started at center-forward for Palermo and played the complete match. He scored the first Palermo goal in the 55th minute, while he was involved in the action for the second goal in the 85th minute.
Video of the goal (at 1:18) by Trajkovski:
The goal by Trajkovski came a right footed shot from inside the area. As for the other goal, Trajkovski won a foul that led his opponent to be given a red card. From the subsequent free kick, Trajkovski had his effort saved by the keeper, but Alberto Gilardino was there to score on the rebound. Still, it wasn't enough as Palermo lost 2:3.

After the game, Palermo owner Maurizio Zamparini was not happy with neither the performance nor the result. He wrote a letter on the club's website to express his anger at how some players conducted themselves. Zamparini closed by writing he will take appropriate action to discipline the players that brought shame to the Palermo jersey.
---