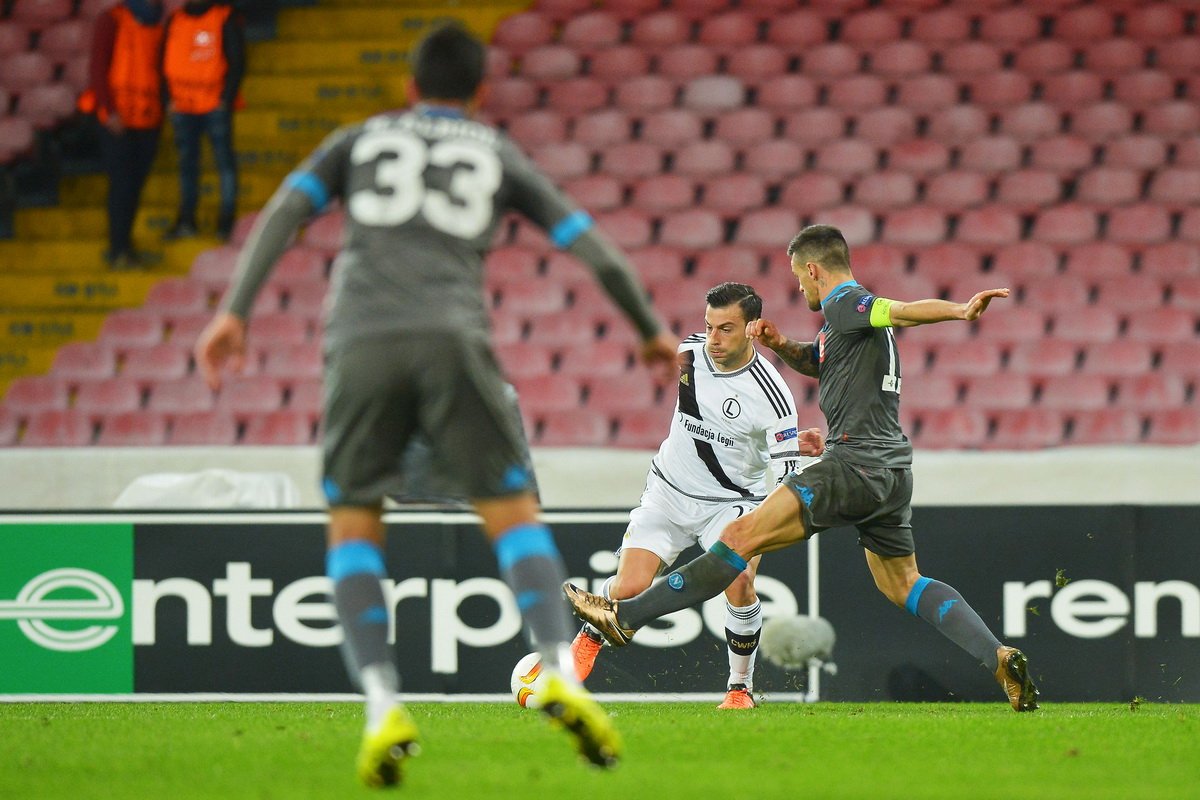 Trichkovski had an assist; photo: LegiaNo Macedonian player remains in the Champions League or Europa League this season after Dinamo Zagreb, Legia, APOEL and Qarabağ were all eliminated.
UEFA Champions League, Group F, Dinamo Zagreb - Bayern München 0:2
Arijan Ademi continues to be out of action for Dinamo Zagreb with a doping suspension. Given his four year ban, Ademi will no longer be covered in the internationals performances. An update, however, will be provided if any news arises from his appeal.

UEFA Europa League, Group D, Napoli - Legia 5:2
Ivan Trichkovski opened on the bench for Legia before he was introduced in the 71st minute to substitute Ondrej Duda. Trichkovski would pick up an assist in the 90th minute when his cross was headed home by Aleksandar Prijovic. A Macedonian crew, led by main referee Aleksandar Stavrev, officiated this match.
Video of the assist by Trichkovski:
UEFA Europa League, Group J, Anderlecht - Qarabağ 2:1
Vladimir Dimitrovski is not eligible to play for Qarabağ in the Europa League. He was not signed on time to be registered.

UEFA Europa League, Group J, APOEL - Sparta Praha 1:3
Valmir Nafiu was also not registered by APOEL for the Europa League, plus he is currently out with an injury.

Croatia, Hrvatski Nogometni Kup, Lokomotiva - Rijeka 0:1
Stefan Ristovski played the opening 45 minutes for Rijeka before an injury forced him to be replaced at the start of the 2nd half by Marko Vesovic, while his teammate Leonard Zuta lasted all 90 minutes. Zuta recorded the assist on the lone goal for Rijeka in the 65th minute when he set up Roman Bezjak. Regarding the injury to Ristovski, it is not serious, so he should not miss any time. Rijeka reached the semi-finals of the Croatian Cup with the narrow win over Lokomotiva.
Video of the assist by Zuta:
Netherlands, Eerste Divisie, Jong PSV Eindhoven - NAC Breda 0:3
Uros Matic got the start for NAC Breda and played the complete match. Matic won a penalty in the 88th minute when he was fouled inside the area. His teammate Kevin Brands converted the spot kick to set the final score at 3:0.

Serbia, Jelen SuperLiga, Novi Pazar - Jagodina 1:0
Stefan Ashkovski was not available for Novi Pazar due to long-term injury (broken jaw). This was a make-up game from a postponed match last month, caused by snow at that time.

Thailand, Toyota Thai Premier League, Saraburi - Muangthong United 2:4
Mario Gjurovski started for Muangthong United and played until the 90th minute when he was replaced by Sivakorn Tiatrakul. Gjurovski scored the third goal for his team in the 84th minute. He dribbled with the ball, facing little resistance from the visiting players, before slotting a right footed shot to the bottom right corner.
Video of the goal by Gjurovski (at 5:20):
Thailand, Toyota Thai Premier League, Bangkok Glass - Port 2:1
Darko Tasevski began on the bench for Bangkok Glass before he was brought on in the 54th minute to take the spot of Tassanapong Muaddarak. Tasevski produced a good save from the keeper at the hour mark.

Italy, Serie B, Como - Crotone 0:1
Nikola Jakimovski opened on the bench for Como before he was introduced in the 63rd minute to substitute Cesare Ambrosini. Jakimovski also received a yellow card in the 90th minute. Como conceded one late goal to suffer the home loss against Crotone, the current leaders in the Italian second division.

Bulgaria, A Group, Slavia Sofia - Lokomotiv Plovdiv 3:0
Zoran Baldovaliev was fielded in attack for Lokomotiv Plovdiv and played until the 58th minute when he made way for Dani Kiki. Baldovaliev had a good look early in the 2nd half, but his finishing was not up to par.
---