The Macedonian U16 national team played two road friendlies against Turkey in which the hosts celebrated two wins.
One of the youngest national teams that Macedonia formed, the U16s, visited Turkey in order to play two friendlies against their counterparts. The first game was played on Tuesday and despite taking an early lead through Bojan Kolevski, Macedonia would be defeated. Turkey managed to turn the match around by scoring four unanswered goals for a 4:1 win.
The rematch took place on Thursday. After a goalless opening half, the young Macedonians once again scored first. According to the Turkish federation, it was Besir Ramadani who scored the goal, but the Macedonian federation wrote that it was an own goal by a player called Erkan Sinin, someone that does not exist. Thus, the Turkish report more credible.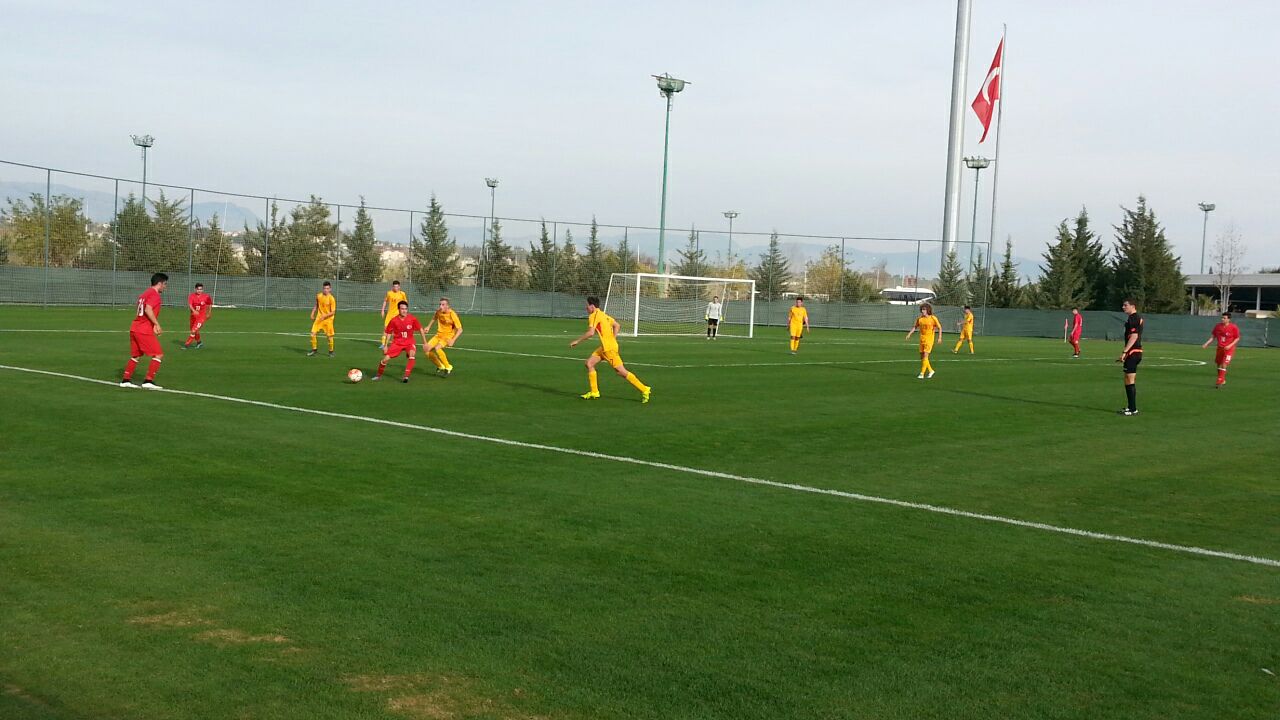 Moment in the first games; photo: TFF
Emirhan Sport Complex in Antalya
Turkey U16 - Macedonia U16 4:1 (2:1)
Scorers: 34' Ali Göçmen, 37', 80' Ozan Muhammed Kabak, 50' Sefa Akgün - 9' Bojan Kolevski
Turkey: Berke Özer; Ramazan Emrihan Civelek (41' İsmail Çokçalış), Bekir Melih Gökçimen (41' Muhammed Talha Şen), Muhammed Ozan Kabak, Ercan Şirin (63' Şahan Akyüz), Hasan Ali Adıgüzel (56' Metehan Yılmaz), Recep Gül (C) (71' Yunus Akgün), Sefa Akgün, Ali Göçmen (71' Ertuğrul Teksen), Atalay Babacan, Enes İslam İlkin (63' Berkay Görmez).
Macedonia: Malik Ziberi; Viktor Rizankovski, Filip Antovski, Angel Stratorski, Martin Ristov, Filip Stojanoski, Darko Churlinov, Kristijan Ristovski, Bojan Kolevski, Enes Fazlagikj, Mario Naumoski.
Referee: Ozan Ergün (Turkey)
Emirhan Sport Complex in Antalya
Turkey U16 - Macedonia U16 2:1 (0:0)
Scorers: 49' Ertuğrul Teksen, 61' Atalay Babacan - 44' Besir Ramadani
Turkey: Atakan Akyol; Bekir Melih Gökçimen (68' Muhammed Talha Şen), Ozan Muhammed Kabak (C), Hasan Ali Adıgüzel (41' Atalay Babacan), Ertuğrul Teksen (68' Ali Göçmen), Şahan Akyüz (76' Ercan Şirin), İsmail Çokçalış (41' Ramazan Emirhan Civelek), Metehan Yılmaz (41' Sefa Akgün), Berkay Görmez (41' Enes İslam İlkin), Kerem Atakan Kesgin, Yunus Akgün (41' Recep Gül).
Macedonia: Malik Ziberi, Filip Antovski, Angel Stratorski, Martin Ristov, Darko Churlinov, Bojan Kolevski, Enes Fazlagikj, Mario Naumoski, Besir Ramadani, Altin Sefo, Besnik Ferati.
Referee: Ali Rıza Boz (Turkey)
---