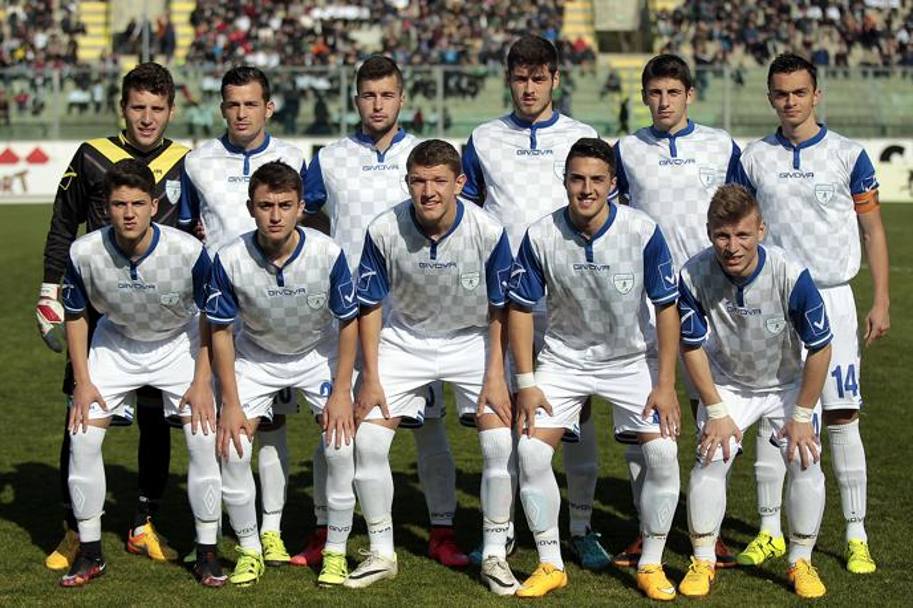 Akademija Pandev at Viareggio; photo: La Gazzetta dello Sport
First win for Akademija Pandev at the "Coppa Carnevale di Viareggio" tournament as the Macedonians smashed the Australian participant.
After the 4:0 beating by Inter on Monday, Akademija Pandev recovered well and recorded their first ever win in this prestigious tournament. After only 10 minutes of play Daniel Milovanovikj scored the first goal for Akademija Pandev and only six minutes later Aleksandar Mishov doubled the lead. After the break Daniel Radojcikj set the final score of 3:0.
In the other match of this group the defending champion Inter was surprised by Spezia who won with 3:1.
The final round will be played on Saturday when Akademija Pandev faces Spezia at 15.00 CET.
Bruno Ferdeghini stadium in Spezia
Akademija Pandev - A.P.I.A. Leichhardt 3:0 (2:0)
Scorers: 10' Milovanovikj, 16' Mishov, 45' Radojcikj
Akademija Pandev: Georgiev; Jovanov, Manevski (75' Kirov), Malinov, Temelkov, Doncev (41' Radojcikj), Mihailov (75' Micev), Petkov (61' Kurt), Kochovski (71' Trapanovski), Mishov (41' Tomovski), Milovanovikj (75' Delevski).
A.P.I.A. Leichhardt: Williamson (72' Thuema), Gulisano, Adattini, McCarron, Cook (72' Reagan), Stewart (68' Mellino), Browning, Nasrabadi (72' Lenin-Parker), Cortese (68' Kery), Cox, Rinaldi (28' Turpeinen).
Referee: Marcenaro di (Genoa)
| | | | | | | | | |
| --- | --- | --- | --- | --- | --- | --- | --- | --- |
| | Group 1 | MP | W | D | L | GD | P | |
| | Spezia | 2 | 2 | 0 | 0 | 8:1 | 6 | to advance |
| | Inter | 2 | 1 | 0 | 1 | 5:3 | 3 | to advance |
| | Akademija Pandev | 2 | 1 | 0 | 1 | 3:4 | 3 | |
| | A.P.I.A. Leichhardt | 2 | 0 | 0 | 2 | 0:8 | 0 | |
---