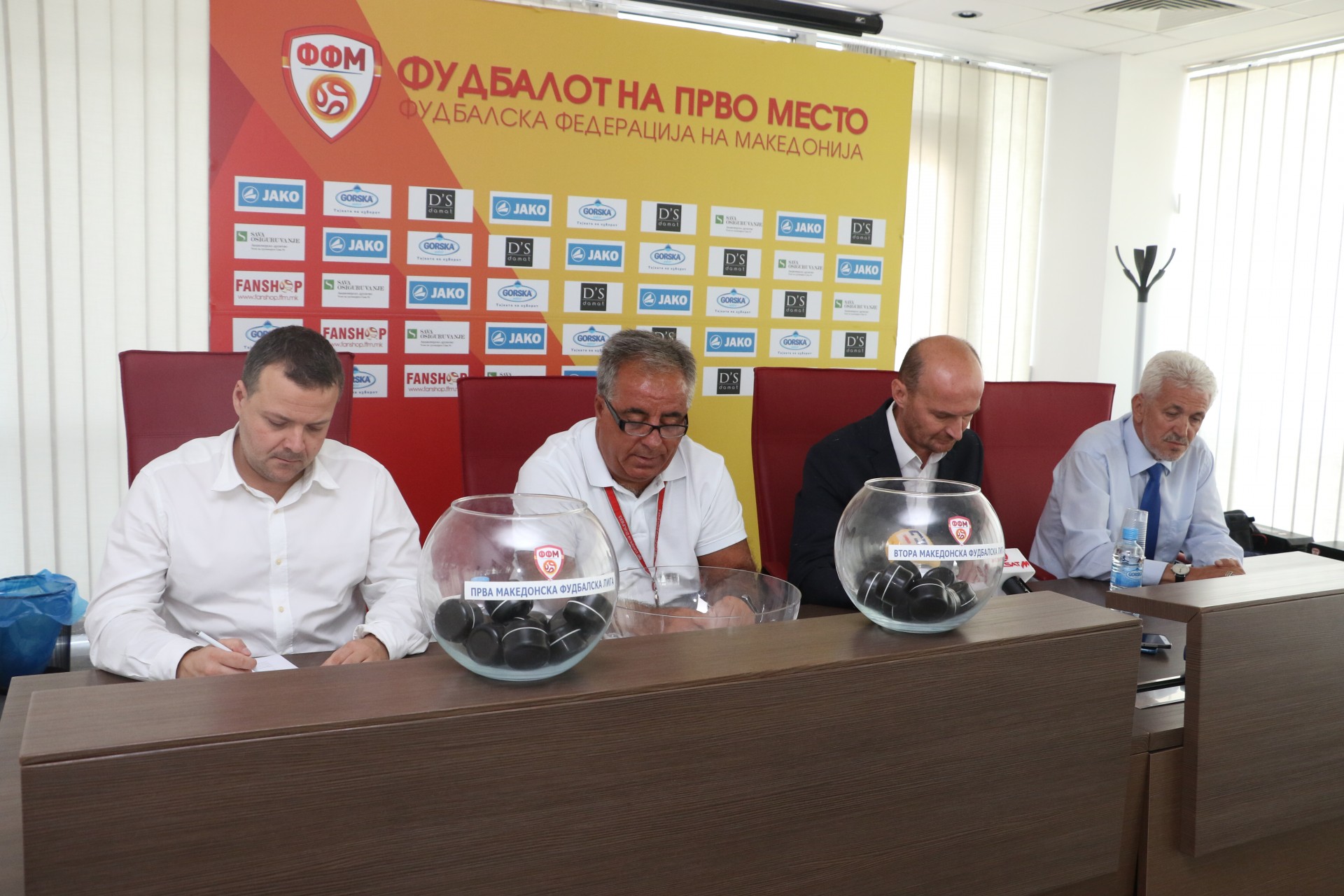 Moment of the draw procedure; photo: FFMThe draw for the Round of 32 in the 25th edition of the Macedonian Cup took place today in the headquarters of the FFM.
Cup holders Shkendija will start defending the trophy in the village of Golemo Konjari where they will face the local third league side with the same name.
Instead of 32 teams, the new season in the Macedonian Cup will start with 30 or even 29 teams. The Northern region that has 3 places available gave only one participant meaning that two places remain empty. Furthermore, the participation of Mladost is still unconfirmed as the team is facing financial problems and already failed to enter the new season in the Second League.
These are the pairs for the Round of 32 (in brackets is the league in which each teams plays in the new season):
Chaklani (4) vs. Rabotnichki (1)
Skenderbeu (3) vs. Vardar (1)
Golemo Konjari (3) vs. Shkendija (1)
Vlaznimi (3) vs. Teteks (2)
Fortuna (3) vs. Pobeda (1)
Sateska (3) vs. Metalurg (2)
Belasica (3) vs. Pelister (1)
Akademija Pandev (2) vs. Makedonija Gjorche Petrov (1)
Ljuboten (4) vs. Horizont Turnovo (2)
Vardar Negotino (2) vs. Shkupi (1)
Gorno Lisiche (2) vs. Renova (1)
Novaci (2) vs. Skopje (2)
Malesh (3) vs. Sileks (1)
Kozhuf Miravci (3) vs. Vlazrimi 77 (2)
Bregalnica (1) and Mladost (4) are idle.
The Round of 32 games will be played on 17 August with a kick-off at 17.30 CET. Since it is only a one leg game, penalties will decide the winner if the score is tied after 90 minutes. Extra time won't be played.
---