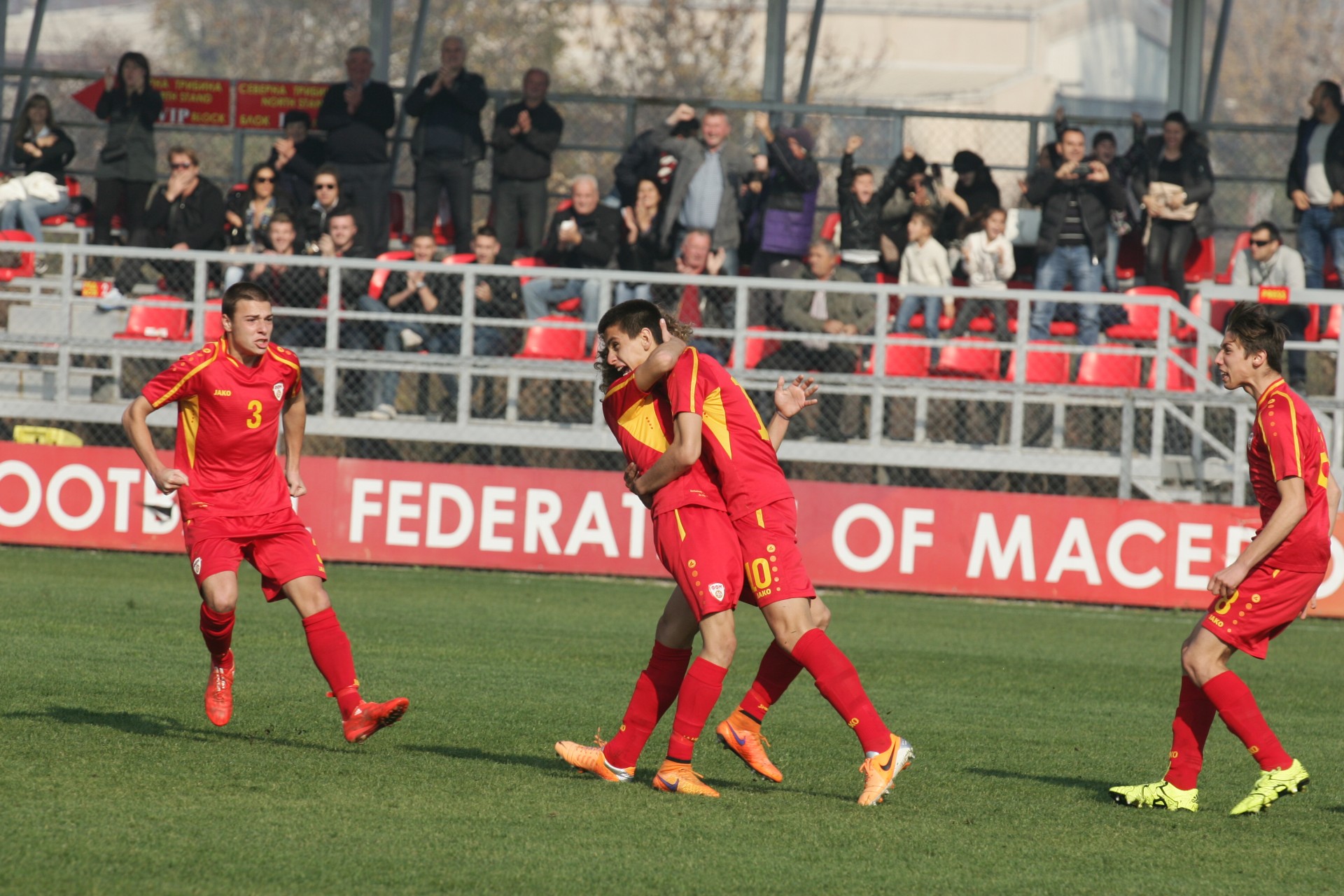 A previous joy of the U17s; photo: FFMThe U17 national team of Macedonia managed to finish third in the Group 4 in the first round of the qualifiers, but because of a not good goal-difference will have to wait the outcome of others for a place in the Elite Round.
Macedonia started the campaign with a disappointing 3:1 defeat by Serbia which later proved to be the crucial obstacle for advancing in the Elite Round. The young Lynx got back in the race for after playing a goalless draw with the host team of Italy and favourites to win the group.
In order to confirm the third place Macedonia had to stay undefeated against Albania in the last Round. The team lead by coach Dobrinko Ilievski managed to win 2:1 after first being down 0:1. Macedonia finished third, while Italy won the group.
To see the winning goal click here.
On the table of the third-placed teams Macedonia is currently on the 5th place, the last that leads into the Elite Round. But, there is one group left to be played, so the U17s will have to wait for that outcome and pray that the team that will end up third there won't be better then them.
The draw for the Elite Round will be held on 13 December at the UEFA headquarters in Nyon, Switzerland. If Macedonia advances, will be placed into the last Pot D.
The national teams were divided into 14 groups each containing 4 countries playing in one-venue mini-tournaments. The top two from each pool progress alongside the five third-placed sides with the best record against the leading pair in their groups.
The Elite Round will consist of 32 teams split into 8 groups of 4 countries with the group winners and the seven runners-up with the best record against the teams first and third in their section advancing to the 2017 UEFA U17 EURO that will be held in Croatia from 3rd to 19th of May.
Group 4 final standings:
| | | | | | | | | |
| --- | --- | --- | --- | --- | --- | --- | --- | --- |
| | | MP | W | D | L | GD | P | |
| | Italy | 3 | 2 | 1 | 0 | 3:0 | 7 | Elite Round |
| | Serbia | 3 | 2 | 0 | 1 | 5:3 | 6 | Elite Round |
| | Macedonia | 3 | 1 | 1 | 1 | 3:4 | 4 | possible Elite Round |
| | Albania | 3 | 0 | 0 | 3 | 1:5 | 0 | |
Round 1
Albania U17 - Italy U17 0:1
62' Davide Merola
Wednesday, 26 October 2016, 11:00 CET
Bruno Bucci stadium in Russi, Italy
Serbia U17 - Macedonia U17 3:1 (1:0)
Goals: 19' Željko Gavrić, 54', 69' Filip Stuparević - 80' (pen) Enis Fazlagikj
Serbia: 1. Milojević; 16. Kamenović, 5. Marković, 6. Pavlović, 3. Šehović; 10. Đerlek (C), 4. Ilić, 8. Gavrić (66' 13. Popović), 7. Janković (50' 17. Vidosavljević); 9. Stuparević (72' 18. Babić), Kokir.
Macedonia: 12. Velkovski; 3. Antovski, 4. Stratorski, 15. Perchevski, 13. Sefo (61' 2. Simunovikj); 6. Ferati, 7. Ristov (41' 17. Osmanoski), 10. Fazlagikj; 8. Churlinov, 9. Kolevski (C), 11. Trajkoski (70' 14. Naumoski).
Referee: Fábio José Costa Veríssimo (Portugal)
Yellow cards: Šehović, Pavlović (S), Churlinov, Fazlagikj (M)
Red cards: /
Round 2
Serbia U17 - Albania U17 2:0
5' (pen) Armin Đerlek, 13' Radivoj Bosić
Friday, 28 October 2016, 14:45 CET
Tullo Morgagni stadium in Forlì, Italy
Italy U17 - Macedonia U17 0:0
Goals: /
Italy: 1. Ghidotti; 3. Campeol, 5. Anzolin, 6. Bettella (C), 2. Bellanova; 7. Visconti (56' 8. Caligara), 4. Pinna, 18. Raspadori (65' 16. Scarlino), 14. Candela (72. 17. Nivokazi); 9. Pellegri, 11. Merola.
Macedonia: 12. Velkovski; 3. Antovski, 5. Simonovski, 4. Stratorski, 15. Perchevski, 13. Sefo; 10. Fazlagikj, 6. Ferati (52' 7. Ristov), 17. Osmanoski; 9. Kolevski (C), 8. Churlinov (75' 14. Naumoski, 80'+4 11. Trajkoski).
Referee: Fábio José Costa Veríssimo (Portugal)
Yellow cards: /
Red cards: /
Darko Churlinov in duel with Raoul Bellanova; photo: FIGC
Round 3
Italy U17 - Serbia U17 2:0
52' Davide Merola, 68' Roberto Biancu
Monday, 31 October 2016, 15:00 CET
Tullo Morgagni stadium in Forlì, Italy
Macedonia U17 - Albania U17 2:1 (0:0)
Goals: 54' Bojan Kolevski, 64' Angel Stratorski - 52' Emiliano Bullari
Macedonia: 12. Velkovski; 3. Antovski, 15. Perchevski, 4. Stratorski, 5. Simonovski, 13. Sefo; 10. Fazlagikj, 17. Osmanoski, 6. Ferati; 8. Churlinov (80'+2 7. Ristov), 9. Kolevski (C).
Albania: 12. Malaj; 3. Rama (C), 5. Kalaj, 4. Pjetri; 13. Marishta, 6. Kumbulla, 11. Kraja, 16. Lekaj, 2. Doda (28' 7. Gavazaj, 61' 14. Dragoshi); 8. Bullari, 9. Oshafi (61' 17. Pellumbi).
Referee: Bryn Markham-Jones (Walles)
Yellow cards: Kolevski (M), Lekaj, Rama, Pellumbi, Dragoshi, Kumbulla (A)
Red cards: /
---