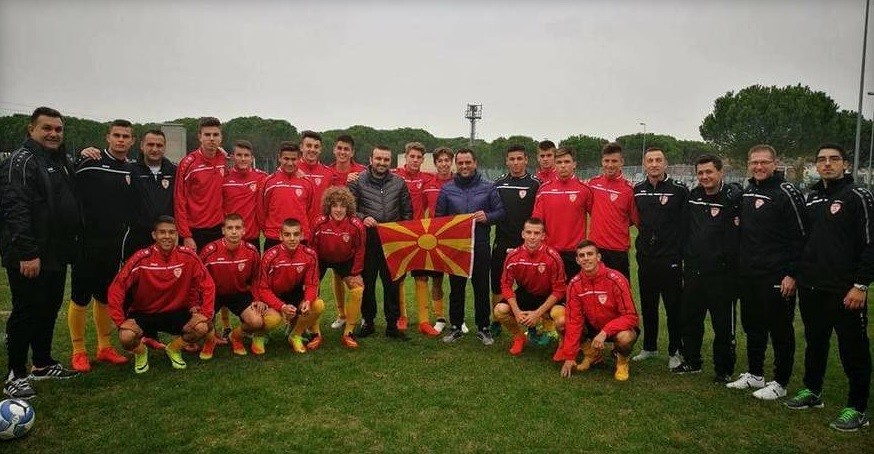 The U17 NT while in Italy; photo: FFMBad news for the youth Macedonian national team: the players won't feature in the Elite Round as they faced an elimination due to worst disciplinary record than Armenia.
The dream for the young Macedonians is over. The U17 national team won't advance into the Elite Round of the 2017 qualifications due to, believe it or not, one yellow card.
The last qualifying group was completed today. Israel topped the group before Poland, while Armenia beat Iceland in the battle for the third place. Previously Armenia took a point from Poland.
So, in the ranking of third-placed teams where only the results against the first two teams are taken in question, both macedonia and Armenia have equal points (1), equal goal-difference (-2) and equal number of goals scored (1). The fourth tie-breaker is the disciplinary record where Armenia is better only by 1 yellow card: Macedonia has 3, while Armenia 2.
(CLICK TO ENLARGE) Ranking of the third-placed; photo: Wikipedia
The young Macedonians picked up 2 yellow cards in the first game against Serbia (Darko Churlinov in the 61st minute and Enis Fazlagikj in the 63rd) and one in the last game against Albania (Bojan Kolevski in the 70th minute). Those 3 yellow card happened to be decissive at the end.
If the number of yellow card was also equal, then the next tie-breaker would favor Macedonia as it is the national team coefficient in which Macedonia is slightly better. Macedonia's coefficient is 1.333, while the Armenian is 1.000.
---