Bardi celebrates his goal: Újpest FCIzair Emini, Enis Bardi and Muzafer Ejupi scored a goal each, while Ejupi also scored an own goal.
Albania, Kategoria Superiore, Kukësi - Flamurtari 1:0
Both Izair Emini and Nijas Lena, made the start for Kukësi. Emini played until the 74th minute, while the latter played the whole game. Emini was the decisive player as he netted the lone goal of the game in the 23rd minute.
Click here to see Emini's goal.
Australia, A-League, Western Sydney Wanderers - Melbourne Victory 0:3
Daniel Georgievski opened on the visitors' bench and made a late substitute appearance from the 84th minute. It seems that Georgievski lost his starting spot after his short absence due to an injury.
Austria, Tipico Bundesliga, Sturm - Salzburg 0:1
Uroš Matić started in defensive midfield and played all minutes as his team lost at home against Salzburg. Matić was also booked with a yellow card in the 25th minute.
Belgium, First Division A, Eupen - Charleroi 2:2
Gjoko Zajkov wasn't called up by Charleroi.
Belgium, First Division B, Leuven - Roeselare 1:2
Jovan Kostovski began on the bench for Leuven and played from the 67th minute to strengthen the offense. Just eight minutes later he scored Leuven's lone goal, but it wasn't enough to avoid the loss.
Bulgaria, Parva Liga, Ludogorets - Lokomotiv Plovdiv 1:0
Stefan Jevtoski made his first start for Lokomotiv in an official game and that happened in the big game away to Bulgarian giants Ludogorez. Jevtoski opened in defensive midfield and played all minutes, he also received a yellow card in the 50th minute. Unfortunately, his team lost the game. Jevtoski's teammate, Vancho Trajanov, didn't make the matchday squad. As a reminder, Stefan was called up by U21 national team coach Blagoja Milevski for the upcoming friendlies against the senior national team, but Jevtoski stayed in Bulgaria due to Lokomotiv's request.
Jevtoski (#4) attacks the ball; photo: PFK Lokomotiv
Bulgaria, Parva Liga, Neftochimic - Botev Plovdiv 4:0
Bojan Gjorgievski once again wasn't part of Neftochimic's matchday squad. The defender is now for already three months without a call up.
Croatia, MAXtv Prva Liga, Slaven Belupo - Inter 2:0
Mirko Ivanovski played the whole match for the home side, while his fellow Bitola man Marjan Altiparmakovski entered the fray in the 70th minute.
Croatia, MAXtv Prva Liga, Istra 1961 - Osijek 1:3
Risto Mitrevski played the whole match for the hosts, as did Muzafer Ejupi and Milovan Petrovikj for the visiting side. Ejupi's name was mentioned many times throughout the game as he was very active and also scored an unlucky own goal into his own net and one goal into the net of Istra. Petrovikj also had one nice opportunity at the beginning.
Game highlights:

Croatia, MAXtv Prva Liga, Split - Rijeka 0:2
Another match which features Macedonians on both sides in Croatia. Vlatko Stojanovski still hasn't made the breakthrough for Split, while Stefan Ristovski and Leonard Zhuta played the whole match for the away team. With this win, Rijeka have officially became autumn champions for the first time in their club history. They have a 6 points advantage over Dinamo Zagreb.
Cyprus, Cyta A, Ethnikos - Zakakiou 3:1
Mite Cikarski played the whole match for the hosts who are having much better season than last year, while Martin Bogatinov is keeper #2 at the moment in the club.
Cyprus, Cyta A, Doxa - AEK 1:1
AEK once agan dropped points, this time in the away game against Doxa. Daniel Mojsov played the whole match, while Ivan Trichkovski has returned from his injury and was brought on in the 72nd minute. AEK had a 0:1 lead, but conceded a goal in the final moments of the game.
Denmark, Superligaen, Viborg - Odense 1:1
Aleksandar Stankov was introduced to the match in the 70th minute for the home team in the derby of the bottom in Denmark. He was shown a yellow card 5 minutes later.
Greece, Soúper Ligk, Panionios - Kerkyra 1:0
Vladimir Dimitrovski remained on the bench for the away team.
Hungary, OTP Bank Liga, Újpest - Debrecen 2:0
Enis Bardi played the whole match for the hosts, while Viktor Angelov remained on the bench. Bardi scored his club's second goal of the night and raised his tally to a total of 8 goals so far in the season, bringing him to first place in the goalscorers ranking in OTP Bank Liga in Hungary.
Bardi's goal (at 2:54)

Hungary, OTP Bank Liga, Paks - Vasas 1:0
Kire Ristevski played the whole match for the away team. His club was first on the table for a long time this season, but with the defeat in the last round of the first half-season they slipped to third place. Still, they have the same number of points as first and second placed teams and in any case this is a very good achievement for them considering they only avoided relegation last season in the last round with a total of 32 points, whereas this season they already have 34.

Italy, Serie A, Inter - Genoa 2:0
Goran Pandev started on the bench aagainst his former club where he spent his glorious days. He got a chance in the 79th minute instead Luca Rigoni when the Nerazzurri were already leading 2:0. When he entered the field, the Inter fans gave him a standing ovation and started singing his name. He did not have a chance to score.
Giuseppe Meazza chants for Pandev:

Italy, Serie A, Palermo - Chievo 0:2
Ilija Nestorovski played the full match for Palermo, while his teammate Aleksandar Trajkovski eventually was match fit and was included in the squad by staying on the bench. It was a very disappointing defeat for the Rosaneri who in the 8th home game recorded the eighth defeat.
Nestorovski was powerless against Chievo; photo: Corriere dello Sport
Italy, Serie B, Avellino - Benevento 1:1
Nikola Jakimovski watched the whole game from the visiting bench.
Netherlands, Eerste Divisie, Oss - Fortuna 3:1
Stefan Ashkovski played the entire match for Fortuna.
Netherlands, Eerste Divisie, Telstar - Dordrecht 0:0
Denis Mahmudov played the whole game for the home side.
Poland, LOTTO Ekstraklasa, Pogoń - Zagłębie 1:1
Aleksandar Todorovski played the whole match for Zagłębie and picked up a yellow card in the 81st minute.
Poland, LOTTO Ekstraklasa, Lechia - Śląsk 3:0
Ostoja Stjepanovikj played the full 90 minute for the defeated side.
Portugal, Ledman LigaPro, Vizela - Famalicão 3:2
Due to injury keeper Andreja Efremov wasn't included in the visiting squad.
Serbia, Super Liga, Crvena Zvezda - Radnički 2:1
David Babunski and Daniel Avramovski didn't play for Crvena Zvezda nor Petar Krstikj for Radnički.
Serbia, Super Liga, Napredak - Mladost Lučani 0:0
Tome Kitanovski wasn't included in Mladost's squad for this match.
Serbia, Super Liga, Rad - Novi Pazar 2:0
Darko Micevski played the full game for Novi Pazar and also received a yellow card at 56th minute of the game.
Serbia, Super Liga, Javor - Vojvodina 2:1
Aleksa Amanovikj played whole match for Javor, while his teammate Filip Ristovski didn't make the matchday squad.
Slovakia, Fortuna Liga, Dunajská Streda - Zlaté Moravce 1:0
Darko Tofiloski was reserve goalkeeper for the home team, while Tihomir Kostadinov didn't play for the visitors.
Slovakia, Fortuna Liga, Podbrezová - Tatran Prešov 1:1
Dejan Peshevski didn't play for Podbrezová because of injury.
Slovenia, Prva Liga Telekom Slovenije, Domžale - Maribor 3:2
Zeni Husmani started as defensive midfield for Domžale and played entire match in his team's home win in the derby match against Maribor.
Husmani leads the ball at the derby; photo: Lado Vavpetič
Slovenija, Prva Liga Telekom Slovenije, Olimpija - Krško 1:1
Dorijan Babunski wasn't summoned by Olimpija for this match.
Spain, Segunda División, Gimnástic - Rayo Vallecano 0:1
Stole Dimitrievski was whole game between Nàstic's posts. His team disappointed its fans with a home defeat to stay dead last.
Game highlights:

Switzerland, Raiffeisen Super League, Grasshoppers - Lugano 0:0
Ezgjan Alioski played whole 90 minutes for Lugano and received a yellow card at 80th minute, while Nikola Gjorgjev came as a substitute for Grasshoppers at 79th minute of the game replacing Icelandic international Rúnar Már Sigurjónsson.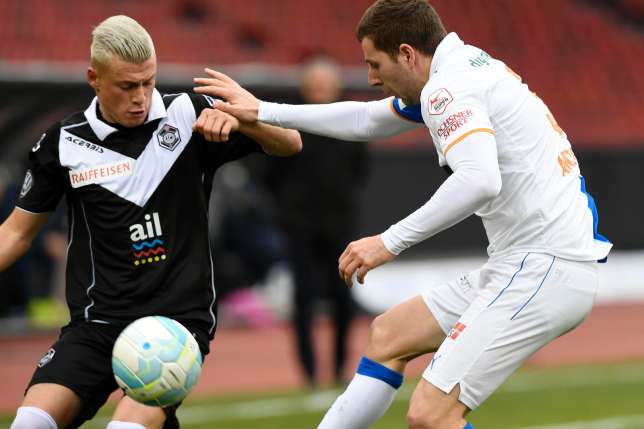 Alioski (L) at the game; photo: FC Lugano
Switzerland, Brack.ch Challenge League, Wil - Xamax 0:0
Samir Fazli entered the game for Wil at 74th minute when he came instead Latvian international Artūrs Karašausks.
Turkey, TFF 1.Lig, Sivasspor - Göztepe 3:0
Adis Jahovikj played entire game for Göztepe in their heavy road defeat.
---