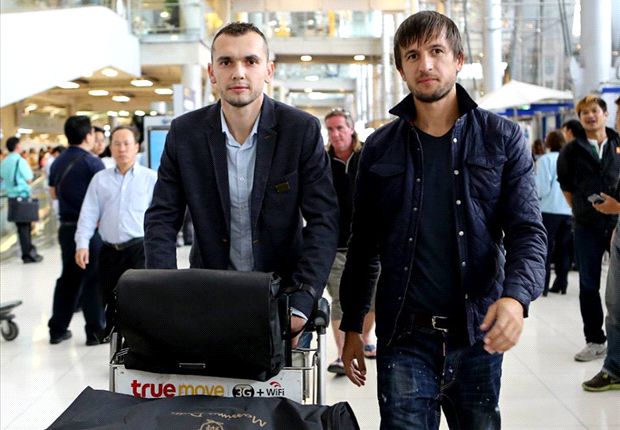 Gjosevski (L) and Tasevski during their trip to Thailand; photo: goal.comThe next person to take part in our interview series is not an active player, but rather an agent who offered his input on the agent process in Macedonian football.
Unlike other leagues, where certain agents are very visible and very much part of the conversation, not much is known about the agent process in Macedonia.  After Darko Tasevski transferred to Bangkok Glass, it was revealed that the person next to him in many of the photos on his trip to Thailand was his agent Nikola Gjoshevski.  So, soon thereafter, we established contact with Gjoshevski to see whether he would be interested in conducting an interview with our site.  He agreed and our exchange with Nikola took place last week.

In our initial discussions, Gjoshevski stated that he represents 16 players in his agency, 4 of which are under 18 years old while the other 12 are over that age.  Nikola talked openly about several different topics, including his top priority when transferring clients abroad, the union process in Macedonia, things that he would propose to improve the conditions of the sport and the process of how agents contact teams and vice versa.

Here is our question and answer session with agent Nikola Gjoshevski:

MF: Nikola, you were formerly a player. What made you decide to pursue a career as an agent as opposed to say a coaching career?
NG: My decision to start work as an agent and my idea with my company was made 2-3 years before the end of my playing career.  I respect coaches, but I didn't see myself in that kind of role.  Actually, my idea with the player agency company was made because I wanted to use my University degree in Economics and Management, and also due to my contacts and experience that I picked up during my time as a player.  So, I was sure that the player agency company was needed in the Macedonian football market.  From this point of view, I am happy with my idea to proceed with this idea.

MF: What is your top priority when one of your clients transfers abroad? Is it the best financial offer, or maybe a long-term view to take a little less in order to join a more prestigious league?
NG: My top priority regarding the transfers of young players in abroad leagues is made with a long-term view, not the financial offer to the player.  Most of the players I represent are very young, so I would be very happy if some of them grew as players to play in the best 5 leagues around the world.  I know that is very difficult and there are many reasons for that, but I'm here to make this road easier for the players and to help them succeed in finding the right team at the right time regarding their quality level at the moment of their transfer.

MF: How protected are players in the Macedonian league when it comes to receiving their salaries on time? Is there a union to protect them?
NG: Regarding this matter, for a long time players were not protected in Macedonia.  Things are changing in a good way and I know that before several months there is a union for the players in Macedonia that will protect their rights, and I wish the union to succeed.  We must follow the rules as they are in the world of football and this will have a good effect on the development level of the sport in Macedonia.  The rules must be put into practice and regarding this I expect help from the Football Federation of Macedonia.

MF: If there is one thing you can suggest to improve Macedonian football, what would it be?
NG: We discuss too often about what is needed to improve our football, and there are many things we have to do, but in short I will say three priorities: 1) more money and know-how in the management of clubs, 2) much better training facilities and 3) good coaches in the youth teams of each club to develop young players.  From that, you can see that everything is connected with money.  So, the money is the first problem that must be solved.  In this way, if I had to mention one thing (as was raised in your question), then my choice would be a new law of sports in Macedonia.  That means that the investors in football (the owners) would feel privileged to run their businesses by investing in football.

MF: Can you tell us a little bit more about the process of how you contact teams to gauge their interest in your clients? For example, how did the transfer of one of your clients, Darko Tasevski to Bangkok Glass, come about?
NG: There are many ways how agents connect with football clubs.  Sometimes the clubs make contact with the agents when they have an interest in some players, and sometimes the agents offer their players to clubs.  Regarding Darko Tasevski's transfer to Thailand, the negotiations between the clubs (those in Israel and Thailand) took more than 3 months.  I offered the player to Bangkok Glass FC and they showed big interest for Darko.  They even traveled 10 hours to watch Darko in person in Israel before they made a decision to sign him.  After their decision to take Darko, we finished the negotiations between both clubs and I am very happy that everything finished well and Darko will represent Macedonia in the Thai league.  Thailand football is developing well over the last couple of years and I hope Darko will have good moments in Thailand helping Bangkok Glass FC achieve their goals in the Thai championship.
---