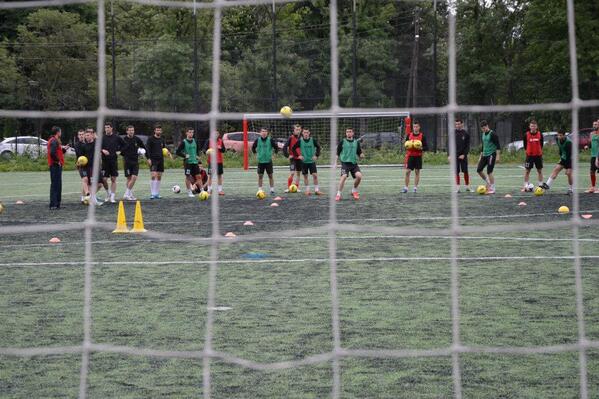 Vardar controls own destiny in final roundAs the curtains close on another season, the only thing to be decided in the final round of the First League is whether Vardar or Shkendija will be the last team to book a spot for next season's edition of the Europa League qualifications.
We know for a fact that Rabotnichki are the new champion and we know the four teams who are moving to the second league - Gorno Lisiche, Makedonija Gjorche Petrov, Napredok and Gostivar. We also know Sileks and Teteks are coming back to the First League. We know Metalurg has already secured a spot in UEFA Europa League qualification as this is the last season in which a Cup finalist also qualifies for Europa League if the Cup champion has also won the domestic championship - as it was the case with Rabotnichki.
Horizont Turnovo are currently on the second place of the table with 57 points, goal difference of +27 and better head-to-head with Shkendija. This means even if they lose and both Metalurg, Vardar and Shkendija win, they will still be in the top 4 and qualify for Europa League. So, as things stand, we only need to find out the 3rd team that will qualify for Europa League and it is either going to be Vardar or Shkendija.
Vardar visits Bregalnica and if they win, they will get a spot in UEFA Europa League. However, if they only get 1 point or 0 and Shkendija defeats Pelister at home, then Shkendija will be 4th Macedonian representative in Europe.
Therefore, the highlight of the round is surely the match in Shtip where Vardar holds their destiny. In Tetovo, Shkendija needs to celebrate a win against Pelister and then hope for sharing of the points in Shtip or a hosts' win. 
In the other matches, Horizont Turnovo will have the honor of hosting the new champions in a match where they will be looking to confirm their runner-up position. Gorno Lisiche and Gostivar will have a warm-up for the second league match, while Napredok will say the farewell from the first league in front of their fans in a match against Renova. Similar to Napredok, Makedonija Gjorche Petrov will depart the First League with a home match against Metalurg.
All the matches will start on Sunday at 15.00 CET.
---