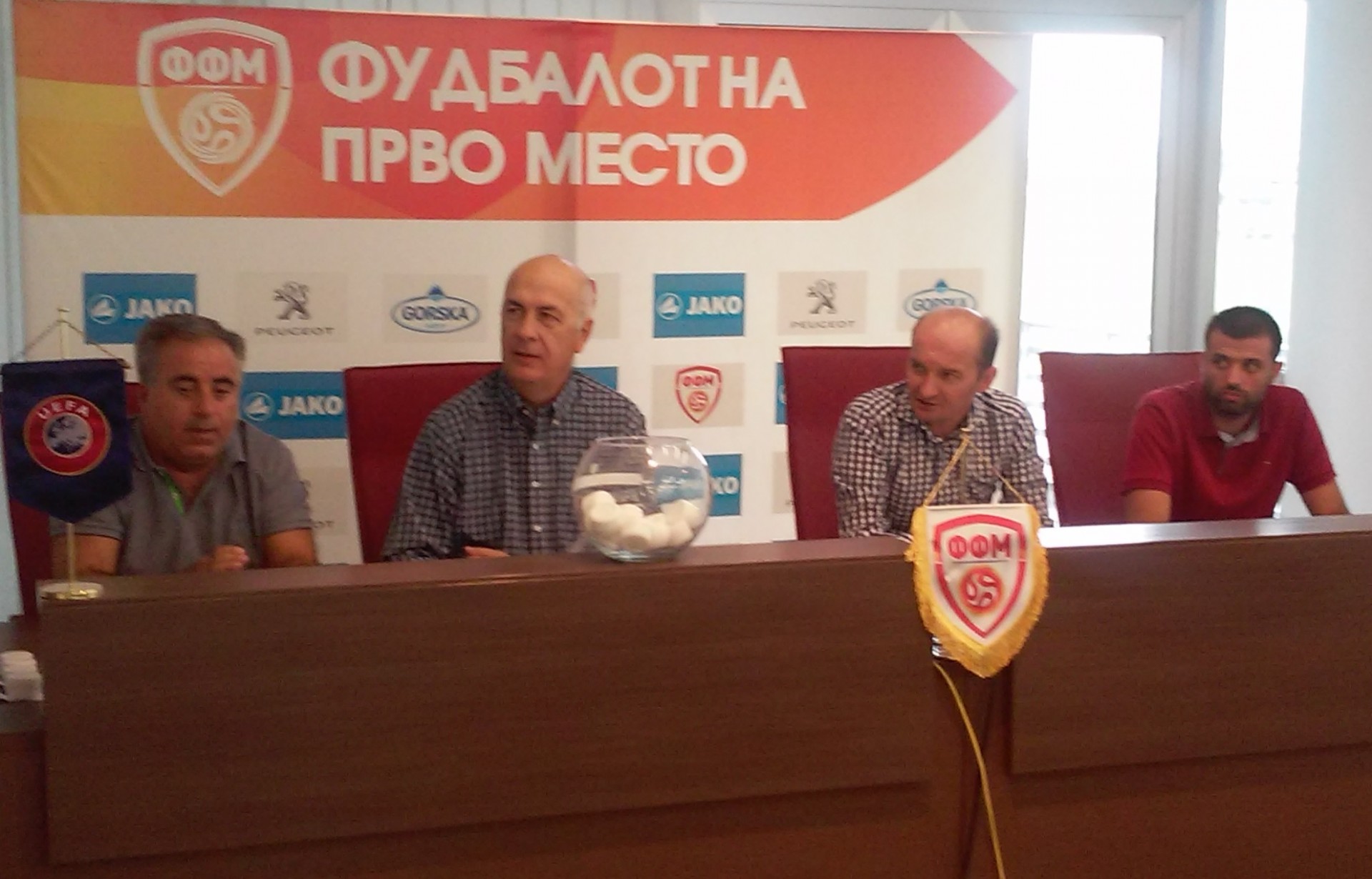 Moments before the draw; photo: FFMThe draw for the Round of 16 of the Macedonian Cup was made today in which Shkendija and Vardar were drawn to play each other, while holders Rabotnichki will also have a tough opponent in Pelister.
Today at 12.00 CET in the headquarters of the Football federation of Macedonia took place the draw for the Round of 16. The 13 winner from the Round of 32 plus the 3 lucky teams that were drawn to automatically jump the previous round were put in one pot, without seeded and unseeded teams.
This kind of allocation brought several interesting games as some of the biggest favourites for winning the Cup will have to play each other and face an early elimination. The two teams with biggest budgets, Shkendija and Vardar, will will firstly face in Tetovo with the second leg scheduled for Skopje. Title holders Rabotnichki got the always tough to beat Pelister, while another interesting clash between First League teams is Turnovo - Bregalnica.
There is only one game that features Second League sides and that is the pair Kozhuf Miravci against Napredok. The only Third League side Pobeda Junior will face Second League participant Drita. Seems like the most happy by the draw is the surprise in the First League, Sileks, who was drawn to play Gorno Lisiche.
Here are all the pairs (in brackets is the league level):
Shkendija (1) vs. Vardar (1)
Kozhuf Miravci (2) vs. Napredok (2)
Pelister (1) vs. Rabotnichki (1)
Gostivar (2) vs. Renova (1)
Pobeda Junior (3) vs. Drita (2)
Turnovo (1) vs. Bregalnica (1)
Sileks (1) vs. Gorno Lisiche (2)
Shkupi (2) vs. Teteks (1)
The first legs are scheduled for 24 September at 15.30 CET, while the returns will be played on 14 October with a kick-off at 15.00 CET.
---