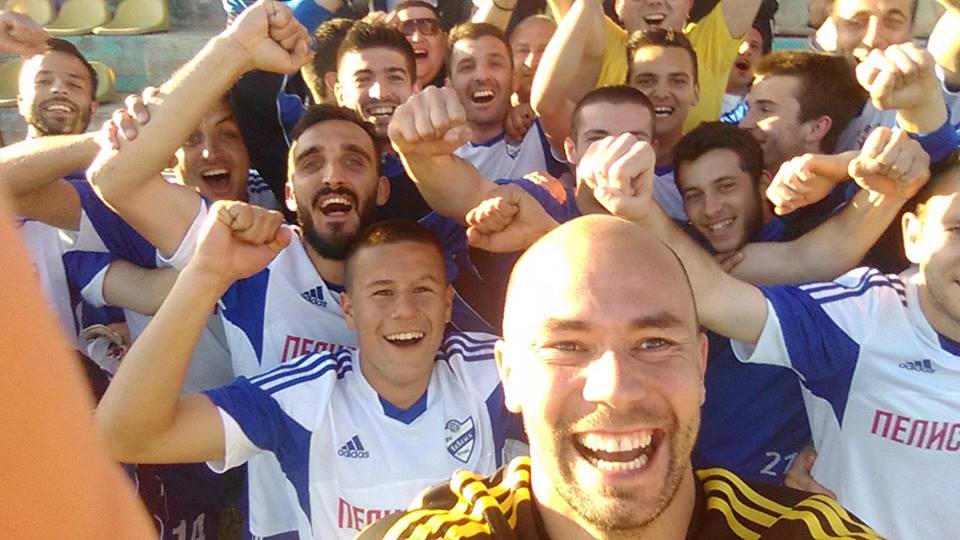 Teteks players celebrate after the gameRabotnichki held off Renova, while Teteks won on penalties over Turnovo to set up a rematch of the 2009-10 cup final.
Teteks did it again in the domestic cup. They have struggled mightily this season in league play, certain to be relegated, but they continue to do well in the Macedonian Cup. They defeated Turnovo on penalty kicks after it was 3:3 on aggregate over the two games. Teteks keeper Vanche Manchevski proved to be the hero in the penalty shootout. Therefore, for the fourth time in the last six seasons, Teteks reached the domestic cup final. Their record in the final is two wins and one loss. One of the wins came against Rabotnichki during the 2009-10 season.
Meanwhile, over in Tetovo, red-hot Renova played a 1:1 draw against Rabotnicki to exit the competition. Since Renova lost 2:1 in the first leg, the 1:1 result meant that Rabotnichki would face Teteks in the final. Reading commentary of the game, it appears that Rabotnichki was rather fortunate to move on since Renova created more quality chances. Just like Teteks, Rabotnichki has been very successful in the Macedonian Cup. This will be their fifth final in the past seven years. Their record thus far is two wins and two losses.
So, both of these teams are no strangers to reaching the cup final. They have been the two most successful clubs in the competition in recent times. Rabotnichki will be seeking revenge for their 3:2 loss to Teteks in May of 2010.
The final is scheduled for May 13 at 20.00 CET at the National Arena Philip II of Macedon in Skopje.
Semi-final return legs:

Renova - Rabotnichki 1:1 (2:3 on agg.)
86' Argjent Gafuri - 70' Kire Markoski
Turnovo - Teteks 2:1 (3:3 on agg., 2:4 P.S.O.)
64' Dragan Gjorgiev, 89' Bojan Najdenov - 10' Cvetan Churlinov
---