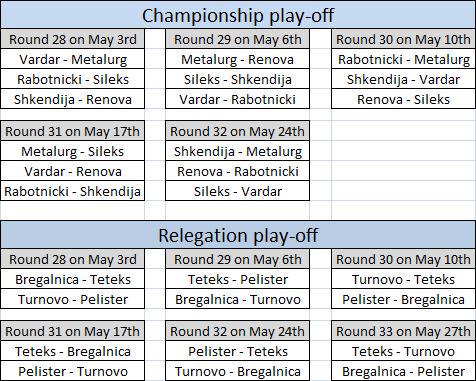 The scheduleThe championship and relegation play-offs get underway this weekend after the regular season concluded following Round 27.
From the ten teams in the Macedonian First League, the teams ranked from 1st to 6th place will participate in the championship play-off, while the teams ranked from 7th to 10th place will participate in the relegation play-off.

The format is different for the two groups. The teams in the championship play-off will only face each other once (thus playing five more rounds), while the teams in the relegation play-off will play home and away fixtures against each other (thus playing six more rounds).

From the championship group, Vardar will head into the final five games with a six point advantage over second placed Rabotnichki. Vardar, along with Rabotnichki and Shkendija, will play three more games, while Renova, Sileks and Metalurg will play just two home games. The reason for that is that the top three teams at the end of the regular season are given preference, based on the scheduling model that the Macedonian federation uses.

Besides the title race between Vardar and Rabotnichki, another interesting battle will be the fight for third place between Shkendija and Renova. Only three points separate those two teams, and third place is very important. That is the last position that leads to an automatic spot in the Europa League qualifications. Meanwhile, the fourth placed team will ONLY secure a spot in those same Europa League qualifications IF Rabotnichki beats Teteks in the Macedonian Cup final. However, if Teteks wins, then the fourth ranked team will be left empty handed (Teteks would take their spot).

As for the relegation play-off, Teteks has already been relegated. The participant in the domestic cup final, as mentioned in the prior paragraph, has been absolutely putrid in league play. At 11 points, even winning all six games in the play-off would bring them to 29 points. That would not be enough to catch Bregalnica and Turnovo, who both have 30 points at the 7th and 8th position.

Therefore, the only two questions in the relegation play-offs will be to see whether Pelister can catch either Bregalnica or Turnovo, trailing them by seven points, and also who will escape the 8th position. That spot leads to a matchup against the third ranked team from the second division to determine the final club that will compete in the Macedonian First League for the 2015-16 season.
---