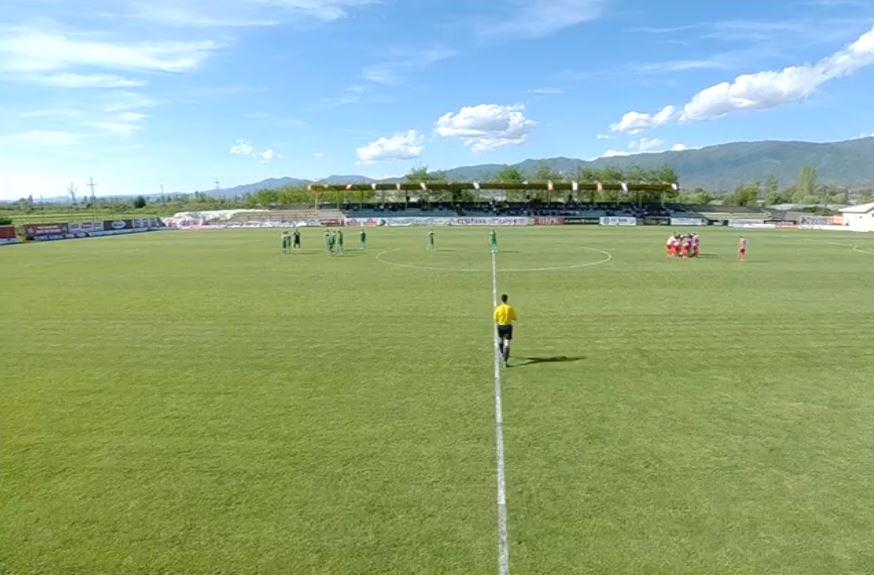 Turnovo vs. Pelister prior to kick-offPelister collected a crucial victory against Turnovo, Shkendija extended its stronghold for 3rd place with a win over Renova, while both Vardar and Rabotnichki took care of business against Metalurg and Sileks, respectively.
Rabotnichki, despite sharing a stadium with Vardar, asked this match against Sileks to be played at the FFM training center now called Petar Miloshevski. The pitch there is kept in ideal condition and it better suits Rabotnichki's style of play. They rely on high pressing, lots of passing and a fast tempo to deal with their opponents. On Saturday, they showed just that by netting three goals against Sileks. U21 national team member Kire Markoski opened the scoring early in the game before Darko Velkovski, part of the "A" national team, doubled Rabotnichki's lead midway through the 1st half. Both came on shots from inside the area. Shortly after the break, midfielder Momčilo Rudan scored on a close range header to make it 2:1, but Norwegian striker Chuma Anene restored Rabotnichki's two goal lead in the 55th minute when he fired a shot to the back of the net.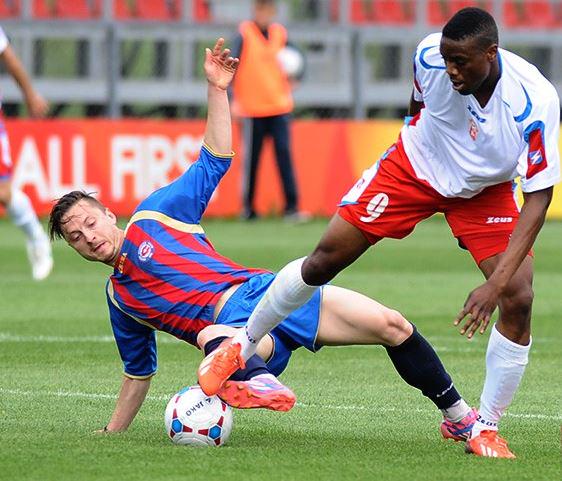 Duranski marks Anene
Rabotnichki: Bozhinovski, Ilievski (89' Bocevski), Dodevski, Velkovski, Siljanovski, Petrovikj, Vujčić (80' Sadiki), Sahiti, Markoski, Anene, Ilijoski (55' Altiparmakovski).
Sileks: Nikov, Timovski, Mickov, Ristevski, Janev, Todorov (86' Acevski), Rudan, Duranski (60' Jakov), Velinov, Nedeljković, Gorgiev (73' Marić).

In the battle for third place in Kumanovo, Shkendija managed to best Renova and thus extend its lead to six points for the all important position on the standings (leads to automatic spot in Europa League qualifications). Victor Juffo opened the scoring in the 9th minute after a miscue between defender Agron Memedi and the Renova keeper. Juffo was opportunistic and got between those two Renova players to score his goal. Renova equalized in the 20th minute after a free kick by Izair Emini struck the post. Elmedin Redjepi notched an easy goal on the rebound opportunity. In the 2nd half, Bojan Vručina (close range shot) and Stênio Júnior (close range header) added one goal apiece to hand Shkendija the win.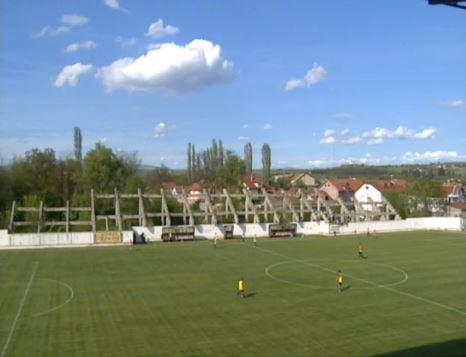 Shkendija and Renova met in Kumanovo

Shkendija: Jovanovski, Bejtulai, Berisha, Polozhani, Abdula, Demiri, Alimi (85' Useini), Totre (58' Todorovski), Juffo, Stênio Júnior, Vručina (77' Kirovski).
Renova: Mustafi, Musliu, Memedi, Redjepi (57' Skenderi), Mojsov, Gafuri (82' Imeri), Fetai, Sadiki (62' Markovski), Ramadani, Nahiu, Emini.

Pelister, meanwhile, managed to hold off Turnovo in a crucial clash for its survival. Heading into this game, Pelister trailed Turnovo by seven points for 8th place (spot that leads to play-off versus third placed club from the second division). Even though Turnovo created the better chances, their finishing was not up to par. Instead, in the 54th minute, Pelister was awarded a penalty when one of their players was fouled inside the area. Goce Todorovski calmly converted the spot kick to score the only goal. In the 65th minute, Pelister defender Kostadin Cheshmedjiev was sent off after receiving his second yellow card of the match, but Turnovo could not capitalize. Turnovo had two quality opportunities after the 80th minute through Sashko Pandev and Gjorgji Tanushev, but both of their efforts went just wide. With this win, Pelister is now within 4 points of Turnovo with five rounds remaining in the relegation play-off.
Turnovo: Zahov, Tashev, Mavrov, Djinov, Milushev, Ivanov, Tanushev, Kochoski, Najdenov (87' Markov), Gjorgiev (73' Bozhinov), Pandev.
Pelister: Dragojević, Petreski, Velkoski, Talevski, Cheshmedjiev, Stajev, Todorovski, Anastasov (89' Trifunovski), Milenkovski (70' Krklinski), Tsirlidis, Biljali (46' Stanojević).

In Shtip, Bregalnica continued its good run of form with a 1:0 victory over already relegated Teteks. Bregalnica played compact as a defensive unit, allowing keeper Filip Gachevski to extend his streak to 887 consecutive minutes without conceding a goal in league play. Midfielder Nikolay Hristov scored the lone goal at the 39th minute mark of the game. Bregalnica now has 33 points in 7th place, three more than Turnovo and seven more than Pelister.
Bregalnica: Gachevski, Gjoreski, Stojanov, Tonev, Mitrev, Hristov, Blazheski, Ristovski, Zdravkov (70' Velkovski), Mishev (57' Stupić), Nacev (57' Andonov).
Teteks: D. Pavlov, Najdovski, Drobarov, Stojchevski, Oslonovskiy (59' Filipovski), Atanaskoski, Bozhinovski, Adem, Cvetanoski (55' Churlinov), Nachevski, V. Pavlov (76' Krstevski).
Vardar did its part, just like Rabotnichki, by beating Metalurg 2:0 in the final game of the round. A brace by Dejan Blazhevski propelled Vardar to keep its six point edge over second placed Rabotnichki at the top of the table. The first goal came in the opening minute on a lob over the keeper from around the edge of the area, while the second goal came on a converted penalty kick in the 57th minute. Vardar once again fielded Blazhevski as its CF as opposed to going with the ineffective Filip Ivanovski and Filip Petkovski. Metalurg finished the match with 10 men when goalkeeper Davor Taleski was sent off in the 73rd minute. Since Metalurg had made their three substitutions by then, veteran midfielder Mile Krstev played keeper for the remainder of the game.
Vardar: Pachovski, Ljamchevski (81' F. Petkovski), Grncharov, Bojović, Popov, Spirovski, Gligorov, P. Petkovski (71' Miranyan), Grozdanoski, Dashyan (46' Petrov), Blazhevski.
Metalurg: Taleski, Gjorgievski, Petrov (54' Angelov), Ilieski (42' Tanturovski), Mitrov, Jevtoski (61' Bakracheski), Krstev, Krivanjeva, Naumoski, Radeski, Bujchevski.

Round 28 results:
Rabotnichki - Sileks 3:1
6' Kire Markoski, 24' Darko Velkovski, 55' Chuma Anene - 51' Momčilo Rudan
Shkendija - Renova 3:1
9' Victor Juffo, 48' Bojan Vručina, 51' Stênio Júnior - 20' Elmedin Redjepi

Turnovo - Pelister 0:1
54' (pen) Goce Todorovski

Bregalnica - Teteks 1:0
39' Nikolay Hristov
Vardar - Metalurg 2:0
1', 57' (pen) Dejan Blazhevski
---