A Gostivar player looks to make a cross; photo: aberdzija FacebookInterestingly, all three games in the Second League play-off ended 4:1, with wins by Gorno Lisiche, Ljubanci and Pobeda, while the First League play-off between Turnovo and Gostivar ended 1:1.
The first leg games for filling the final three spots in next season's Second League took place today. All of them were not close as each match ended 4:1. Based on that, the return legs should not feature much drama since those match-ups are pretty much decided.
Meanwhile, the lone play-off for the last spot in the First League was much closer. In a game played in Probishtip, Turnovo and Gostivar drew 1:1 in the first leg. Dragan Gjorgiev scored for Turnovo, looking to maintain its top division status, in the first half, but Gostivar, aiming to get promoted, equalized ten minutes into the second half through Elvir Nurishi.
Turnovo: Zahov; Tashev, Iliev, Tanushev, Mavrov, Kochoski, Gjorgiev (Stoilov), Markov (Bozhinov), Ivanov, Milushev, Najdenov.
Gostivar: Nuhi; Bedjeti, Ramadani, Savevski, Blazhevski, Tairi (Ademi), Beluli, Ristovski, Nurishi (Abazi), Nebi, Miftari (Taleski).
Gostivar celebrates after their goal; photo: Gostivar
For most people, the game that drew the most excitement today was the derby between Pobeda and Belasica. They faced each other in front of a packed stadium in the Skopje neighborhood of Gjorche Petrov. Pobeda took the lead from a penalty kick through veteran player Toni Meglenski in the 33rd minute. Belasica would then tie the score in the 62nd minute, but everything went downhill for the Strumica based club in the final minutes. Pobeda netted three goals after the 85th minute, including two in stoppage time. It was a shocking collapse for Belasica who looked stunned.
Pobeda: Jovanoski; Meglenski, Veljanoski, I. Mircheski, Karcheski, F. Mircheski, Cheshelkovski (79' Aceski), Mitrevski, Sharkoski (70' Nikolov), Kolevski (62' D. Zdraveski), Alomerovikj.
Belasica: Istatov; Chachev, Grbachliev, Kostovski, Conev, Gligorov (86' Petrov), Petkov, Mitevski, Kostadinov (79' Nikov), Kocev (63' Mizhorov), Donev.
Pobeda players celebrating with their fans; photo: Jovica Reluskoski
Gorno Lisiche, participating in this play-off after finishing in 8th place during the regular season of the Second League, proved to be too strong for Zajazi, the winner of the Third League West. Gorno Lisiche opened the scoring early in the 7th minute, but Zajazi equalized thirteen minutes later. A penalty kick helped the Gorno Lisiche head into the halftime break with a 2:1 lead. Since the 72nd minute, Zajazi played with 10 men after Nebiu received a second yellow card. Gorno Losiche capitalized on that player advantage by scoring two late goals. Their best player, Alen Jasharoski, notched a hat-trick.
Zajazi: Hashimi; Musai, Ramadani, Aljilji, Imeri, Mustafoski, Idrizi, Ismaili (Tairi), Dushku (Nebiu), Djemaili (Ahmeti).
Gorno Lisiche: Madjaroski; Ristov, Cvetanovski, Ljamalari, Mojsovski (Kerim), Brnjarchevski, Jovanovski, Jasharoski, Chichevski, Aksentiev, Bosheski (Pandovski, Vasilevski).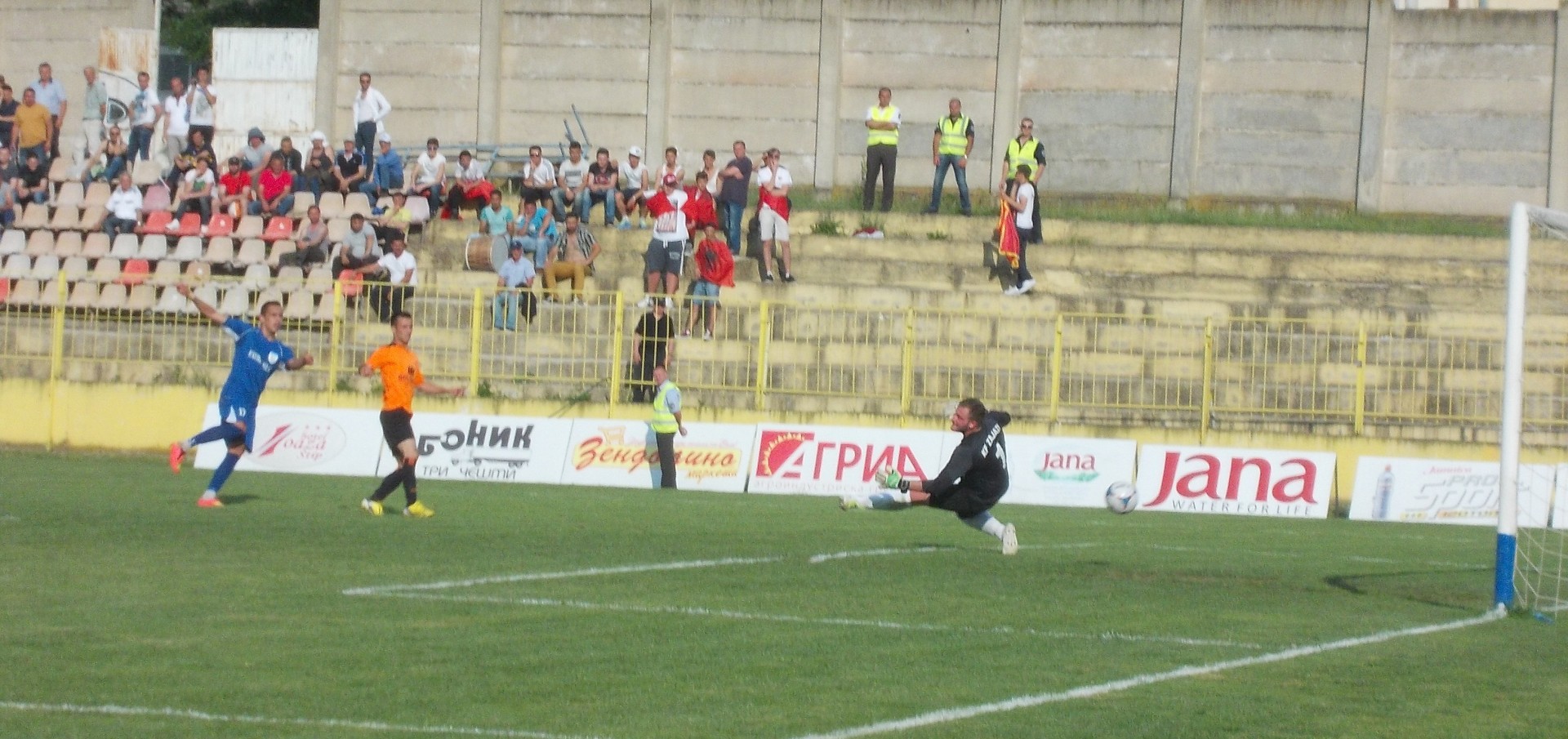 A Gorno Lisiche player scores a goal; photo: FFM
The last play-off of the day was between Ljubanci and Veleshta, two clubs that have never played in the Second League. Ljubanci won the first half with a single goal, and then the club added three more goals in a twelve minute stretch to make it 4:0 by the hour mark with veteran striker Boban Janchevski becoming a hat-trick hero. Minutes later, Veleshta managed to pull one goal back when they converted a penalty kick for a 4:1 final.
Ljubanci: Bozhinovski; Nasevski (68' Pandev), Ignjatov, Blazhev, Shishkov, Kolekjeski, Argirovski, Galovikj, Janchevski, Zhepcheski (46' Lazarevski), Taseski (59' Bozhinov).
Veleshta: Sula; I. Nasufi, Isaku, Andrushi, V. Hani, Zhuta, S. Sheji, F. Hani, Choleski (73' A. Nasufi), Labroski, Lufi.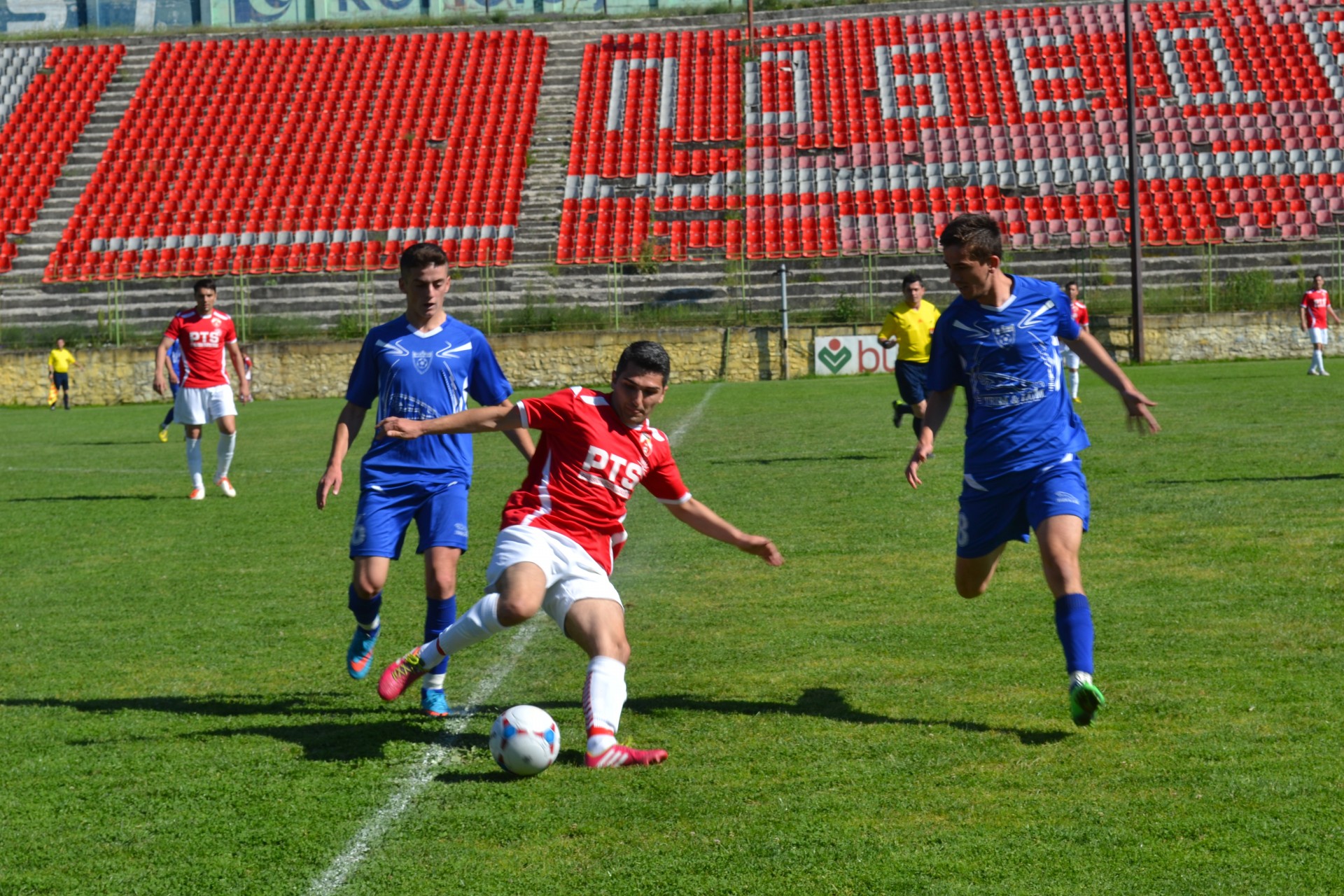 Players on both teams battle for the ball; photo: FFM
The second leg games for these four match-ups are scheduled for this Sunday. All of them will start at 16.00 CET at the same neutral venues. Due to that fact, there is no away goals rule.
First leg results:
Turnovo - Gostivar 1:1 (1:0)
22' Dragan Gjorgiev - 55' Elvir Nurishi
Ljubanci - Veleshta 4:1 (1:0)
33', 48', 60' Boban Janchevski, 57' Darko Lazarevski - 66' (pen) Besart Isaku
Zajazi - Gorno Lisiche 1:4 (1:2)
20' Ismail Ismaili - 7', 38' (pen), 85' Alen Jasharoski, 80' Jovanovski
Pobeda - Belasica 4:1 (1:0)
32' (pen) Toni Meglenski, 85', 90'+2 Dejan Zdraveski, 90'+3 Kjemal Aloverovikj - 62' (pen) Vasko Petkov
---