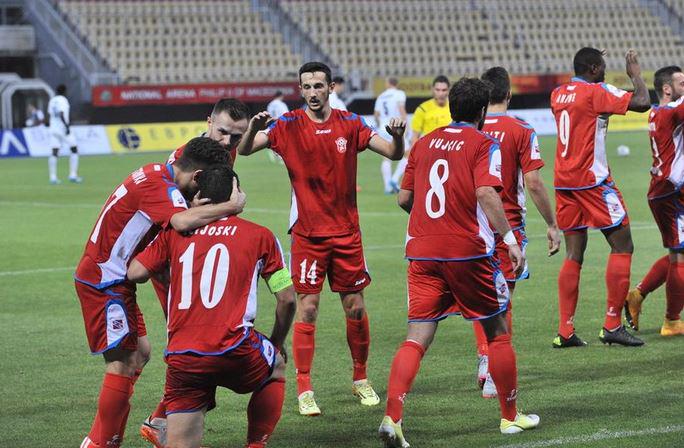 Rabotnichki after a goal; photo: sportmedia.mkRabotnichki utilized two quick goals in the 1st half to advance to the third qualifying round of the Europa League.
It must be said that the better team advanced in this matchup. Jelgava was extremely tough on the defensive end in the first leg, so Rabotnichki had to find a way to break them down today.

That's exactly what happened as the hosts netted two goals in the opening 17 minutes. They were two crucial goals because it forced Jelgava to open up. The visitors from Latvia rely mostly on counter attacks and set pieces for their chances, so having them to play offensive football put them at a big disadvantage.

The first goal came in the 6th minute. Striker Bazhe Ilijoski sent a precise header to the back of the net after a good cross by left back Mite Cikarski. Minutes later, it was 2:0 when Suad Sahiti utilized his speed and quickness to round the keeper before slotting a shot to an empty net. Rabotnichki was dominant for most of the game and should have scored several more goals.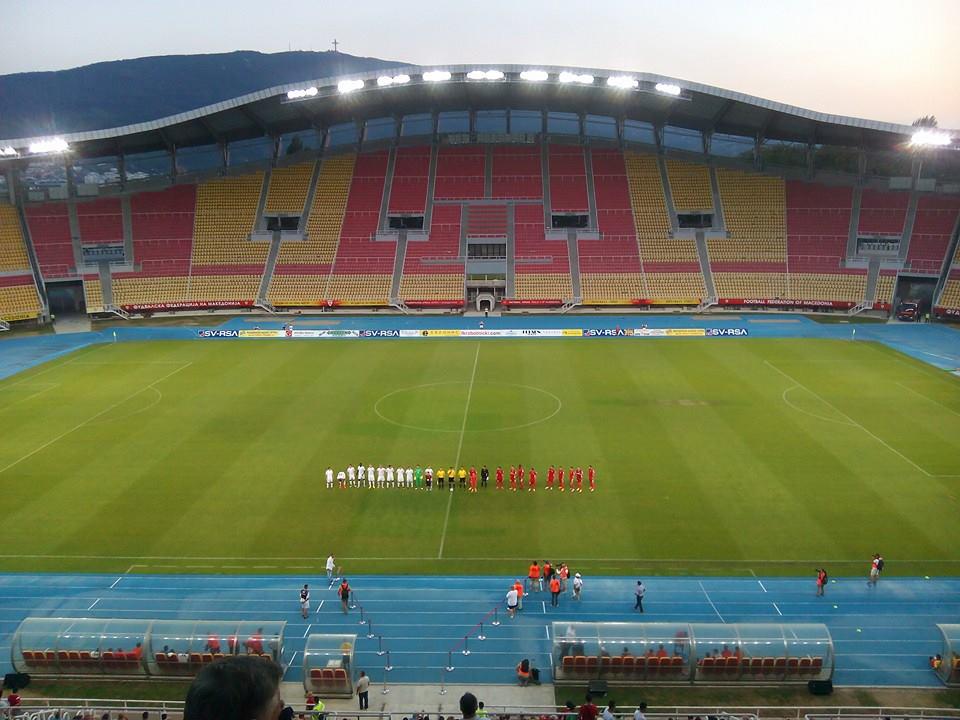 The teams line up before the game; photo: Filip Zdraveski
Ilijoski almost made it 3:0 in the 35th minute, but this time his header went just inches wide. Then, Marjan Altiparmakovski had two huge misses in the 2nd half, especially the one in the 57th minute. It was an unbelievable miss and Marjan should be thankful that it didn't come back to bite Rabotnichki later in the game. Altiparmakovski also squandered a good opportunity in the first leg, so his finishing has got to improve.

Jelgava, on the other end, attempted their first shot on goal at the hour mark, but that effort lacked power to threaten keeper Daniel Bozhinovski. Their second shot in the 86th minute came from a better look and was struck well, but Bozhinovski was right there to corral the ball.
Rabotnichki held on for a 2:1 aggregate victory to set up a matchup against Trabzonspor (Turkey) in the next round. Trabzonspor got past Differdange (Luxembourg) to reach this point of the Europa League.
So, for back-to-back rounds, Rabotnichki overcame a 0:1 first leg deficit only to win the return leg 2:0.
---