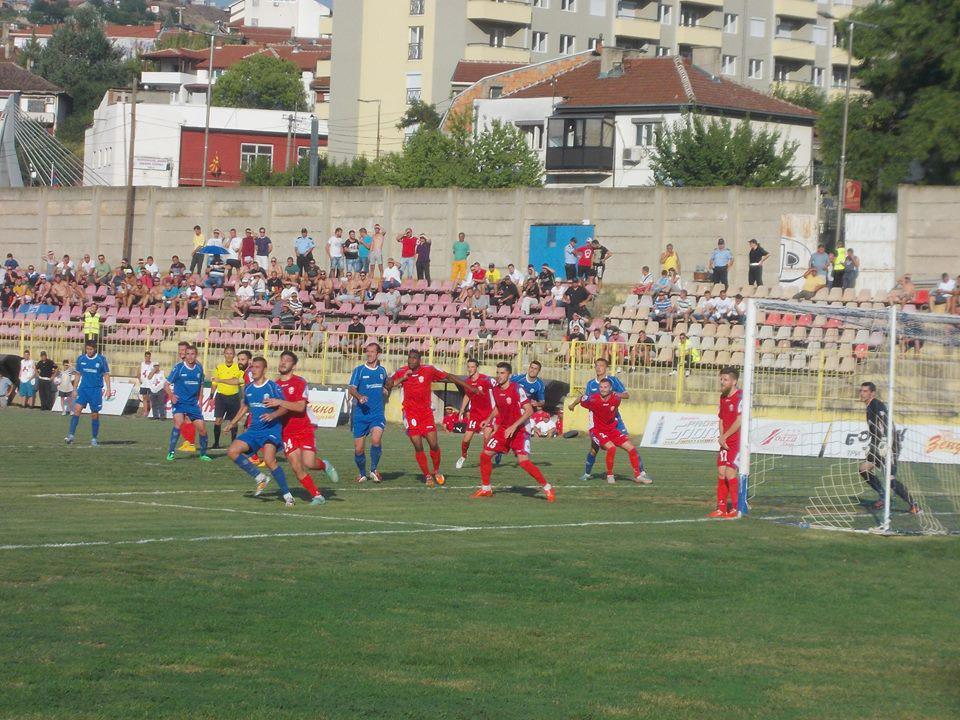 Bregalnica vs. Rabotnichki; photo: Stipski AsoviThe 24th edition of the First League got underway on Sunday, and we witnessed plenty of goals in the opening round.
Shkendija defeated newly promoted Mladost Carev Dvor after conceding an early goal. That goal by Mladost, coming courtesy of Dejan Cvetanoski in the 2nd minute, was the first one of the new season. Shkendija, however, regrouped and scored three unanswered goals the rest of the way. Ferhan Hasani scored directly from a free kick around the 21st minute. Shkendija, who played this game at the home of Shkupi, kept on attacking, but it took midway through the 2nd half to put the game away. Besart Ibraimi, another newcomer, and substitute Bojan Vručina added one goal apiece to seal the victory for Shkendija. It was a fully deserved three points after a rocky start.
Highlights of the game:
Shkendija: Jovanovski, Todorovski, Polozhani, Cuculi, Demiri, Alimi, Radeski (64' Vručina), Juffo (75' Kirovski), Hasani, Stênio Júnior, Ibraimi (75' Totre).
Mladost Carev Dvor: Petrovski, Veljanoski, Gjoreski, Ristevski, Veljanoski, Elmazovski, Kalanoski (77' Markovski), Konjarski, Ristevski (60' Velevski), Ilijoski, Cvetanoski.
The biggest surprise on Sunday, though, was Turnovo's dominance over Renova. The latter was one of Macedonia's Europa League participants this summer, but they were made to look amateurish by Turnovo. Captain Sashko Pandev, the younger brother of Goran, led the way with two goals, while Demir Imeri also scored a brace. Imeri is on loan at Turnovo for this season from Shkendija. Both players scored one goal in each half.
Turnovo: Ristevski (72' Jovanov), Tashev (83' Tanushev), Iliev, Milushev, Tafe, Mavrov, Najdenov, Matute (62' Kochoski), Imeri, Ivanov, Pandev.
Renova: Neziri, Mishkovski, Musliu, Velija, Sadiki, Emini, Nuhiu (68' Jusufi), Ramadani (46' Skenderi), Gafuri (68' Shabani), Fetai, Mojsov.
Sileks also collected a relatively easy triumph over Metalurg, winning 3:1 on the road. Sileks scored the opening goal just before halftime through Nikolcho Georgiev, and added two more after the break. Sileks will be very pleased with the result, while Metalurg will be asking itself many questions. Metalurg is relying on many youth players, but Sileks took advantage. Metalurg did get a late consolation goal through Risto Mitrevski who scored a nice goal on a long range free kick.
Video of the goals:
Metalurg: Taleski, Ristovski, Mitrevski, Ilieski, Gjorgievski, Bakracheski, Mitrov (34' Shoposki), Mersovski, Naumoski (79' Stojanovski), Angelov, Bujchevski (46' Krstev).

Sileks: Mitrović, Timovski, Mickov, Djonov, Rudan, Ivanov, Panovski (80' Filipovski), Georgiev (67' Acevski), Todorov, Duranski, Nedeljković (90' Marić).
Vardar opened the season by dropping two points to Shkupi. Vardar was considerably better, but they had concentration lapses which led to the two goals by Shkupi. The visitors had a defensive strategy and will be satisfied with the result. The opening goal came in the 22nd minute after a throw-in. Inexplicably, Goran Popov on the left side showed no desire mark, thus leading to a goal for Shkupi. You talk about lazy defending. That's the definition of it. In the 2nd half, Vardar would score two goals to take a 2:1 lead, but that only lasted briefly. The two goals came via a converted penalty by Dejan Blazhevski in the 66th minute and a close range effort by Filip Ivanovski in the 87th minute. However, in the 90th minute, Vardar lost concentration again, thinking the game was won, and conceded on a rebound opportunity. Vardar will rue the two dropped points, but the team must show more motivation during league play. Below is how the last three goals were scored.
Highlights of the game:
Vardar: Pachovski, Hambardzumyan, Mijušković, Grncharov, Popov, Gligorov, Dashyan (77' Glishikj), Asani (46' Romero), Stojkov (62' Ivanovski), Juan Felipe, Blazhevski.

Shkupi: Zendeli, Adili, E. Asani, Murati, Lazarevski, Bajrami, B. Asani, Osmani, Iseni (46' Adem), Maksuti (64' Demiri), Nuhiu (90' Zuka).
The last game of the round took place in Shtip between Bregalnica and Rabotnichki. The latter was given an extra day since they played this past Thursday in the Europa League. Rabotnichki rested several regulars, but still fielded a strong lineup. Bregalnica, however, played outstanding defense to shut out Rabotnichki. The home side even played with 10 men for 30 minutes after Nikola Tonev was shown a red card. Still, in the fourth minute of stoppage time in the 90th minute, Bregalnica would score the lone goal thanks to Dean Mitrev. Bregalnica, under manager Vlatko Kostov, has a reputation of being organized and relying on counter attacks. That was fully on display on Monday as Rabotnichki left Shtip empty handed.
Click here to watch the goal.
Bregalnica: Zahov, Blazheski, Tonev, Stojanov, Mitrev, Hristov, Ristovski (82' Iliev), Zdravkov, Velkovski (46' Nikovski), Stanković, Mishev (46' Nacev).

Rabotnichki: Bozhinovski, Siljanovski, Ilievski, Ristevski, Petrovikj, Trajchevski, Jovanoski (68' Vujčić), Mitrov (63' Ilijoski), Markoski, Anene (75' Cikarski), Altiparmakovski.
First League - Round 1
Shkendija - Mladost Carev Dvor 3:1
21' Ferhan Hasani, 61' Besart Ibraimi, 69' Bojan Vručina - 2' Dejan Cvetanoski

Turnovo - Renova 4:0
16', 61' Sashko Pandev, 45', 85' Demir Imeri

Metalurg - Sileks 1:3
78' Risto Mitrevski - 44' Nikolcho Georgiev, 55' Nemanja Ivanov, 60' (o.g.) Darko Ilieski

Vardar - Shkupi 2:2
66' (pen) Dejan Blazhevski, 87' Filip Ivanovski - 22' Ardian Nuhiu, 90' Florent Osmani

Bregalnica - Rabotnichki 1:0
90'+4 Dean Mitrev
---