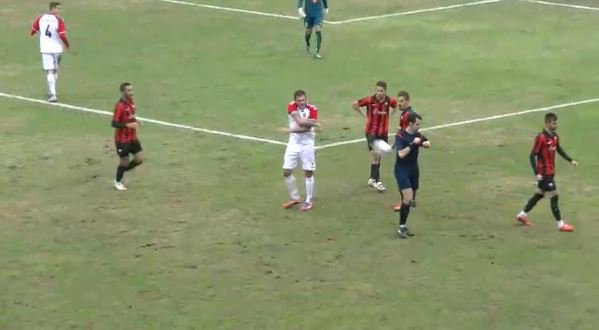 Goran Popov throws the ball at Aleksandar StavrevThe first leg of the quarter-final cup matchup between Vardar and Shkendija saw many incidents, including red cards to Hovhannes Hambardzumyan and Goran Popov.
Referees should never be the focal point in a game. When you don't hear the name of the referee at the conclusion of a match, that means he has done a good job. Unfortunately, that was not the case on Thursday in the cup match between Shkendija and Vardar. The crew, led by main referee Aleksandar Stavrev, lost complete control of the game.

This is not about being pro-Vardar or pro-Shkendija, it is about being pro-football. That was a disgraceful display by the officials that almost led to a fight between the two teams. First, Hovhannes Hambardzumyan picked up two quick yellow cards, leading to his sending off in the 25th minute. Hambardzumyan went up for a jumping duel, as any player is entitled to do, but his marker went down in dramatic fashion to make the contact appear worse than it was.

Goran Popov then picked up a direct red card in the 39th minute when he carelessly extended his arm to hit Blagoja Todorovski. That was blatant and the red card was warranted. Popov then shoved Stavrev and threw the ball at him. The ball ended up hitting Stavrev. For that incident, Popov could be facing a lengthy ban. This is not the first time that Goran has lost his temper.
In the 2nd half, it was more of the same. Midway through, there was nearly a brawl. Besart Ibraimi seemed to say something to rile up Vardar, leading to pushing and shoving between the two teams. The referees, again, were nowhere near to get the situation under control.

Vardar was left fuming with Stavrev and his crew, but it still doesn't excuse the behavior of some players. Due to their actions, Vardar will likely experience more problems than just this loss. A lengthy ban could be looming for Popov, while other players may also be facing discipline based on what the referee and delegate write in the post-game match report.

To their credit, Shkendija capitalized on Vardar's miscues by winning 3:0. They will have a significant advantage heading into the return leg next Wednesday.
---