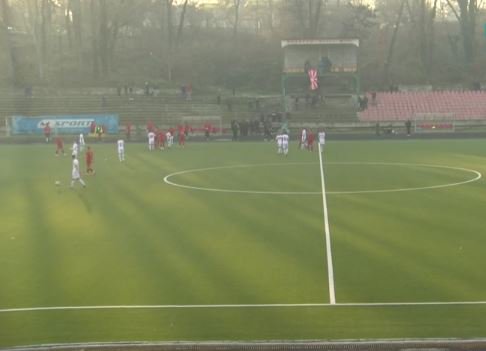 The game was played in VelesMacedonian players from the domestic league could not shake the U21 side, leading to a final score of 0:0.
Impressive result for the select group of U21 players, featuring some regulars but also some new faces. Although they were facing a team with a significant edge in experience, Macedonia U21 never looked inferior and actually created the two best chances of the game. Both of those fell to Demir Imeri in the 1st half, but his finishing left a lot to be desired.

The two big opportunities by Imeri came in the 25th and 38th minute. First, he fired a shot from a great position just inches wide of the left goal post, and then did the same with a close range header from in front of the goal. They were terrible misses that Imeri will be kicking himself for not converting.

As for the Macedonian players from the domestic league, they looked out of sync for long stretches and could not create many quality chances. As a matter of fact, their best look didn't arrive until late in the 83rd minute. That's when substitute Izair Emini struck the top of the crossbar on a shot from inside the area. He was not able to keep his effort down. Otherwise, most of their other opportunities came on shots from outside of the area that were comfortably dealt with by Damjan Shishkovski (1st half keeper) and Senad Mujovic (2nd half keeper).

It remains to be seen whether any player impressed manager Igor Angelovski. Two games were played against what was supposed to be inferior opposition (many of the top foreigners in the last match and many of the key U21 players in this game were not available). Despite that, Angelovski's hand-picked players needed a late goal to win 2:1 against the foreign players in Macedonia, and today drew 0:0 versus the U21 side.

Macedonian players from domestic league: Aleksovski, Siljanovski (46' Murati), Stojanov, Ristevski, Glishic, Alimi, Najdenov (46' Nikolov), Altiparmakovski, Ibraimi, Radeski (52' Gligorov), Ivanovski (46' Emini).

Select players of Macedonia U21: Shishkovski (46' Mujovic), Bejtulai (57' Kocev), Musliu, Najdovski, Redzep (57' Amanovic), Kartal (57' Cheshmedziev), Zuta (46' Totre), Kostadinov, Gorgiev (46' Petkovski), Pivkovski (46' Angelov), Imeri (57' Demir).
---