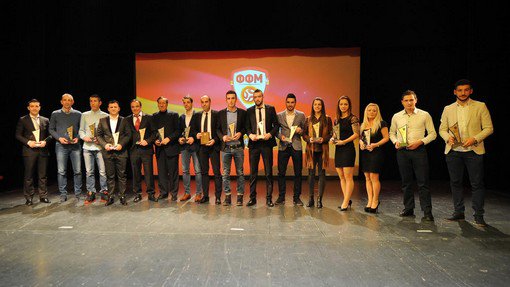 The award winners; photo: UtrinskiThe Macedonian federation held an awards ceremony on Tuesday to honor the best from the 2014-15 season.
Aleksandar Trajkovski received the top prize as the footballer of the year for 2015. Trajkovski, now with Palermo in Italy, was the fully deserving choice. He emerged as a top performer on the national team and made a very good transfer to a strong league. Trajkovski could not be at the ceremony due to club obligations, so his mother accepted the award on his behalf. Aleksandar did deliver a taped video message to express his thanks. He follows Agim Ibraimi, last year's winner in that category.
The best coach went to Igor Angelovski, now the manager of the senior national team. Angelovski earned his award after guiding Rabotnichki to reach the play-off round of the Europa League qualifications. The club also finished in second place during the league campaign. He edged out Sergey Andreev (no longer with Vardar) and Qatip Osmani of Renova.

Some of the top honors in the domestic league were given to Filip Gachevski, Izair Emini and Kire Markoski. Keep in mind that performances in the 2014-15 season determined the winners. That is why keeper Filip Gachevski was chosen as the best player in Macedonia. He established a new record by going 912 minutes without conceding a goal for Bregalnica. Then, in the summer of 2015, he moved to Vardar. Gachevski is currently the backup to Tome Pachovski, but this award was for his play with Bregalnica last season. Izair Emini was the best scorer with 20 goals, while Kire Markoski got the nod as the best young player.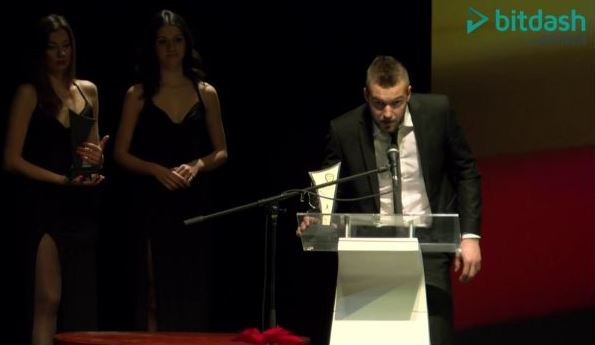 Gachevski speaks after accepting the award
Natasa Andonova was an easy choice for female player of the year. She has excelled at Rosengård, a top club in Sweden and in European competitions.

In the youth ranks, Metalurg swept the two awards. They were chosen for having the best youth academy and one of their coaches, Vlatko Kolev, received the prize for best coach in youth football. Kolev has since moved to Vardar where he now works in their academy.
The fair-play award went to Rabotnichki, while Aleksandar Stavrev took home the honors as the best referee.
---