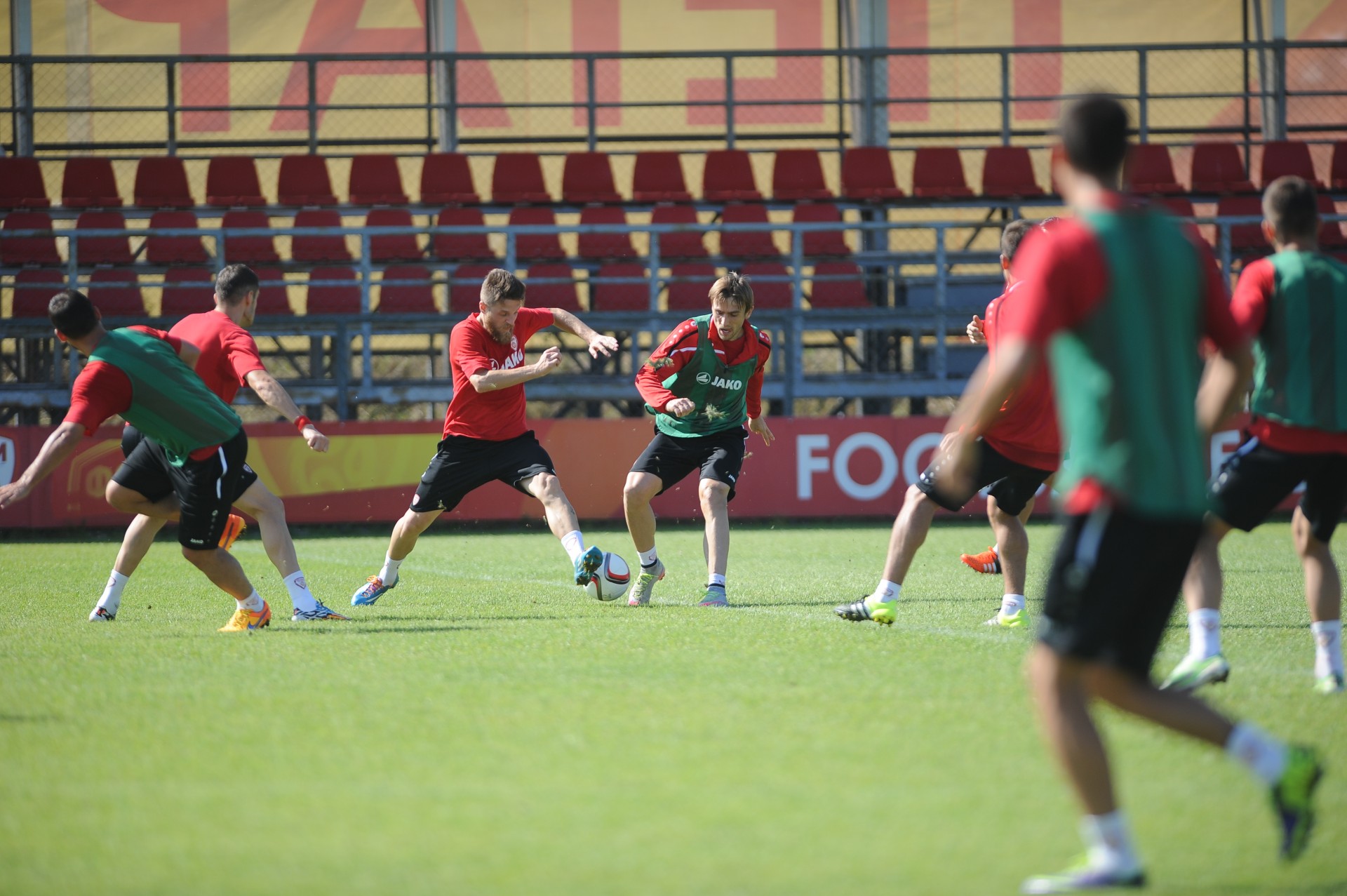 The national team players on a training; photo: FFMSenior and U21 national team coaches revealed the lists of summoned players for the training camp for players that need to be tested for future calls in the national teams.
Both national teams will have two training matches on 12 and 14 December at the Gjorche Petrov stadium in Skopje. Igor Angelovski decided to test domestic players with only 3 who play abroad. Two of them, Babunski and Avramovski, were expected to be summoned as they do not play at their club, while it is a surprise that defender Ristevski was called up as he is regular in both club and national team. Because of injury aren't called up Marjan Radeski and Stefan Spirovski, both initialy planned. The lone surprise in 21-year-old Ljupcho Doriev from second league leaders Akademija Pandev. He is the only one on the list from the Macedonian second division.
Players called up in the senior national team:
Filip Gachevski - Vardar

Damjan Shishkovski - Rabotnichki
Mevlan Murati - Shkendija

Egzon Bejtulai - Shkendija

Kristijan Toshevski - Pelister

Kire Ristevski - Vasas

Visar Musliu - Renova

Darko Velkovski - Vardar
Ferhan Hasani - Shkendija

Bojan Najdenov - Rabotnichki

Besir Demiri - Shkendija

Ljupcho Doriev - Akademija Pandev

Boban Nikolov - Vardar

Dushko Trajchevski - Rabotnichki

David Babunski - Crvena Zvezda
Besart Ibraimi - Shkendija

Kire Markoski - Rabotnichki

Daniel Avramovski - Crvena Zvezda
Of the 18 players, 15 are domestic based and come from 6 different clubs. Most players come from Shkendija - 5, 4 are from Rabotnichki, 3 from Vardar, 1 from Pelister and Renova and 1 from Akademija Pandev who competes in the 2.MFL. There are no players from 5 first league clubs: Bregalnica, Makedonija GjP, Pobeda, Shkupi and Sileks.
Blagoja Milevski is preparing the next generation for the U21 national team, the one that will play in the 2019 EURO qualifiers. But that doesn't mean that none from this list can't win a place in the current U21 team. It is the second time this next gen U21s to gather as in mid November Milevski also organized a training camp in which the lads played two matches against Pobeda and Renova. The are some changes in the squad this time, although most of the are the same. Anyway, this time the number of players is larger, 23 with 4 of them keepers.
Players called up in the U21 national team:
Bekim Redjepi - Teteks

Filip Ilikj - Metalurg

Risto Jankov - Rabotnichki

Senad Mujovikj - Grasshoppers
Esmin Lichina - Vardar

Alex Simovski - Akropolis

Kostantin Cheshmedjiev - Makedonija GjP

Din Alomerovikj - Makedonija GjP

Jovan Popzlatanov - Pelister

Stefan Kostov - Bregalnica

Besart Krivanjeva - Metalurg

Filip Stojanovski - Apollonia
Stefan Jevtoski - Liokomotiv Plovdiv

Elif Elmas - Rabotnichki

Ennur Totre - Shkendija

Davor Zdravkovski - Makedonija GjP

Burim Avdulahi - Étoile Carouge

Calvin N'Sombo - PK-35
Tihomir Kostadinov - Zlaté Moravce

Daniel Krezikj - Oddevold

Matej Cvetanovski - Makedonija GjP

Petar Petkovski - Vardar

Remzifaik Selmani - Renova
Initially the squad was to have 25 players, but Emil Abaz of Dinamo Zagreb and Taulant Sulejmanov of Young Boys were not released by their clubs.
---