Shkendija celebrates one of the goals; photo: KF ShkendijaShkendija and Rabotnichki qualified for the second round after once again beating their opponents, while Pelister faced elimination by Polish side Lech with an another defeat.
Dacia - Shkendija 0:4, 0:7 agg.
Goals: 32' Armend Alimi, 44' Stênio Júnior, 81' Arbin Zejnulai, 89' (pen) Ferhan Hasani
Shkendija: 1. Zahov; 16. Murati, 6. Cuculi, 4. Bejtulai, 77. Todorovski; 11. Vujčić, 5. Alimi (77' 17. Zejnulai); 18. Júnior (77' 8. Totre), 10. Hasani (c), 14. Radeski (69' 21. Teqja); 7. Ibraimi.
Shkendija travelled to Moldova with a 3:0 lead from the first leg, a comfortable lead that already placed the Tetovo based team in the next round. Dacia controlled the opening minutes, but a counter attack in the 32nd minute resolved any doubts. Hasani lead the attack which saw 4 Shkendija players against 2 domestic. He passed to Júnior who was on the left, but he did not had a goot angle to shot, so gave the ball back in the center of the box where Alimi broke the deadlock.
Only 5 minutes later and Dacia was even left with 10 men as Oleg Andronic collected his second yellow card. A minute before the break and Júnior doubled the lead. This time Alimi assisted. In the second half Shkendija gave chance to newcomer Teqja and youngsters Zejnulai and Totre. It was Zejnulai who scored the third nine minutes from time, while Hasani sert the final 4:0 from a penalty kick in the 89th minute.
In the second round Shkendija will play against Finnish side HJK who eliminated Welsh side Connah's Quay Nomads with 3:1 on aggregate. The Welsh side won 1:0 at home, but HJK today celebrated a 3:0 win in the return leg. According to the schedule, Shkendija will be host in the first game next Thursday. Three years ago HJK eliminated Rabotnichki from the Champions League.
Very important road win for Shkendija when it comes to the coefficient for next season. It is not only important to advance to next rounds, but to gather as many wins as possible.
Pelister - Lech 0:3, 0:7 agg.
Goals: 39' Łukasz Trałka, 66' Darko Jevtić, 77' Kamil Jóźwiak
Pelister: 12. Jovanovski, 7. B. Ljamchevski, 16. Kovachev, 4. Todorovski (c) (46' 19. Cardoso), 3. Toshevski; 88. Iliev, 21. Markoski (60' 70. Cvetkovski); 77. Petrov (76' 22. Trifunovski), 30. Peev, 8. Silva; 10. Ilijoski.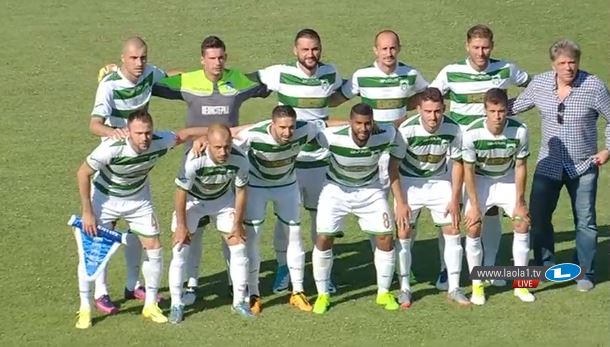 Team photo of Pelister before the kick-off
It was a farewell match for Pelister having in mind the 4:0 defeat away in Poznań last Thursday. Lech once again showed that is the better side althought this time it took 39 minutes to take the lead. Maybe Pelister's coach Naci Şensoy was giving statement after the first match that the result was too high and wasn't showing the real performance of his team, but Pelister once again lost with a high score and without scoring a goal. Lech added two more in the second half for a final win of 3:0, or 7:0 on aggregate. Disaster for Pelister in their European comeback after many years of absence.
Lech deservedly advances and will now face Norwegian side Haugesund in the second round.
Rabotnichki - Tre Penne 6:0, 7:0 agg.
Goals: 28' Suad Sahiti, 43' 59' Bojan Najdenov, 71' Kire Markoski, 82', 83' Stojancho Velinov
Rabotnichki: 25. Shishkovski; 6. Herrera, 14. Shikov, 4. Mitrev, 27. Rašo (61' 22. Iliev); 10. Najdenov, 24. Trajchevski (c), 8. Duranski (68' 16. E. Sahiti); 11. Velinov, 15. Markoski, 7. S. Sahiti (80' 17. Kadriu).
Rabotnichki had a tough time in San Marino on the first leg where despite controlling the game they won thanks to a late 90 minute goal by defender Dejan Mitrev. This time they scored in mid first half through Suad Sahiti assisted by Duranski, making the match much easier. Just before the break Najdenov doubled the lead, while in the second half Najdenov scored his second for 3:0, this time from a free kick. Markoski scored the fourth and Rabotnichki eventually came to a decent result against this amateur side. Later in just two minutes Velinov who missed the first game due to illness, added two more goals.
Velinov celebrates; photo: FK Rabotnichki

In the second round Rabotnichki will face Belarussian side Dinamo Minsk who won the clash with Faroese team Runavík. Dinamo won both legs, first 2:1 at home and today 2:0 on the road. According to the schedule released by UEFA after the draw, Rabotnichki will be host in the first game next Thursday, but that may change since Shkendija also qualified and is also hosting the fisrt game.
---